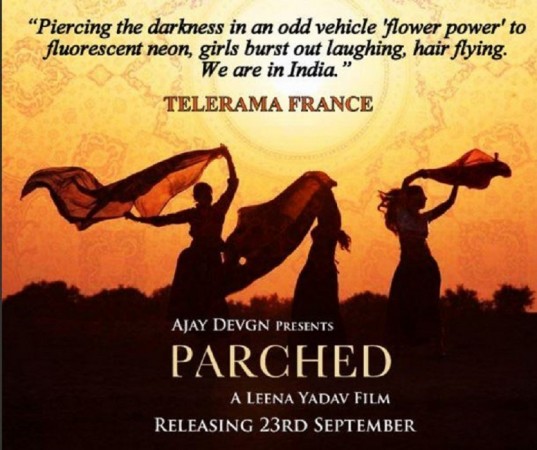 Radhika Apte-starrer Parched, which will be released on Friday, 23 September, has received mixed reviews from critics, who watched the special screening of the film.
Parched is women-centric film and deals with issues related to women. The film revolves around three ordinary women, from rural areas of Rajasthan, where women are still considered as weaker sex. It not only showcases the trials and tribulations that rural women have to face in those places, but also highlights how men perceive their women. Besides Radhika, Parched also has Surveen Chawla, Tannishtha Chatterjee and Adil Hussain in key roles.
The movie has been creating huge buzz ever since the leaked nude scenes of Radhika and Adil went viral. Parched has won acclaim at international film festivals and has bagged as many as 18 international awards.
Teen Patti director Leena Yadav, has helmed Parched, which is co-produced by Ajay Devgn along with Indian cinematographer Aseem Bajaj. Award-winning Russel Carpenter, the cinematographer of James Cameron's Titanic, has shot the film.
We bring you some critics' verdict for the movie. See them below in the Parched review round-up:
Surabhi Redkar of Koimoi said: "Parched is a powerful women-centric drama but it falters with the underlying themes of sexuality. Also, breaking free from the shackles of tradition and society is something that stands true for Kishan's character much more than the leading ladies."
Meena Iyer of the Times of India said: "Leena Yadav's Parched takes you into disturbing and thought-provoking territory. Parched is a roadmap for our oppressed female population, who have been victims of a misogynist mindset for eons. Tannishtha and Radhika are terrific, but it is Surveen who your heart bleeds for."
Rashma Shetty Bali of Bollywood Life said: "While this one is clearly a Sex And The Village that many girls might enjoy, it's not gonna leave you with a feeling of elation as it's more like a chick flick for the rural audience. You might like it but it won't make you go 'woah'! After watching Pink and having high hopes for some more of hard hitting women centric films, I was very disappointed. One time watch would be enough for this film."
Mayank Shekhar of Mid-Day said: "If you were to draw a parallel, this would perhaps be the rural equivalent of Pan Nalin's upper-class, super-urbane 'Angry Indian Goddesses', a terrific ensemble pic, from last year. Of course we've been seeing very entertaining and explosive feminist films lately ('Pink' is an even more recent example). A fine sign of our times, I'd say, and if the arrow also leads to theatres, yes, it's worth going, and supporting, for sure."
Stay tuned for more updates.