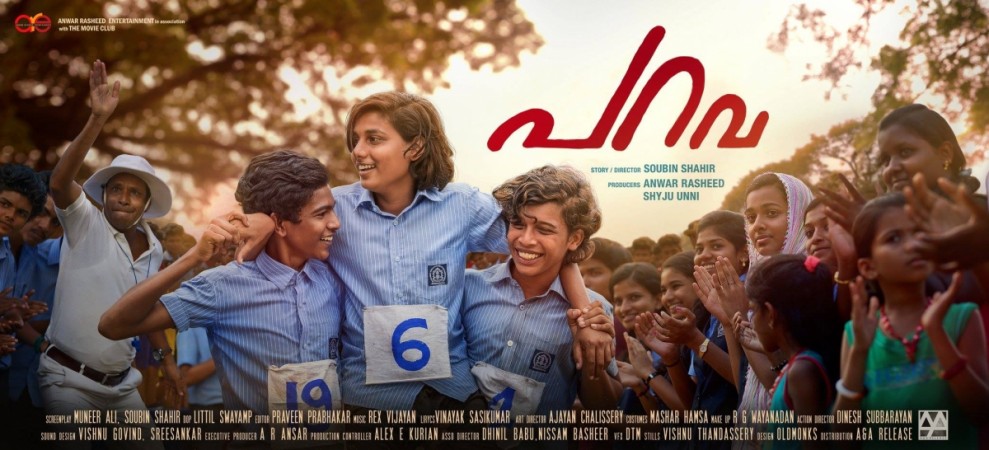 The much- awaited Malayalam movie Parava that revolves around the pigeon race game prominent in Mattancherry, Kochi, finally released at the Kerala box office on Thursday, September 21.
The family entertainer that marks the debut of comedian Soubin Shahir as a filmmaker has been opened to a fabulous response.
Check: Parava review by celebs
Even without any promo videos, the hype around the movie was huge and witnessed a massive opening with houseful shows across the state. Thanks to the extended cameo appearance of young star Dulquer Salmaan, fans of Kunjikkka flooded the theatres to get a glimpse of his character Imran, who appears in almost 25 minutes in the flick.
Check 5 reasons to watch Parava movie
Looking at the initial response of audience on social media, Parava has so far garnered only positive reviews and viewers think it has taken Malayalam cinema to a whole new level. It has been called a well-crafted film punctuated by remarkable performances and brilliant technical work.
Also check: Malayalam movies to watch out for this week
Many celebrities, including singer Govind P Menon, subtitlist Vivek Ranjit, filmmakers Akhil Paul, Abhiram Suresh Unnithan, Sajid Yahiya, Anil Sign, actors Vineeth Kumar, Maala Parvathy, Nebin Benson and scriptwriter Vinay Govind have good words on the film.
Here's what celebs have to say about Parava movie:
Anjali Menon
I have many reasons to fly with this film and yet once the the lights darkened, these two boys whisked me into their world among fluttering hopes and heartaches and so much more... an incredibly atmospheric film that has been made with a lotta love... congratulations to the whole team of Parava! MUST WATCH!! Soubin Shahir Littil Swayamp Anwar RasheedDulquer Salmaan Rex Vijayan Anwar Rasheed Entertainment
Govind P Menon
Littil Swayamp will tell you a story. He will show you a brand new world of dedication and hard work. Mister , you are a Rockstar. Parava is, becasue you are. P:S Everything about this film is genius.
Akhil Paul
After a decade worth of experience in Malayalam cinema, SoubinShahir's debut directorial 'Parava' has hit the screens. And in many ways it's an impressive work, filled with life-like characters and images. Both DulquerSalman and Shane Nigam have delivered splendid performances but it's the two new kids that steal the show.The score by Rex Vijayan was a delight. Congrats AnwarIkka,SoubinShahir,DQ and the entire team.
Nebish Benson
Parava is a amazing film and a new kind of treat to everyone.Hats off to all those who have worked behind this beautiful film. Cinematography,sound design,art everything have come out well to its extent. Every artists have done their part well. Its a feeling that you should only experience from theatre. Go watch this movie from your nearest theatres !
Alluring entry as a director Soubinikka
Abhiram Suresh Unnithan
Parava is a film that will keep our eyes glued on to the screen from the very first frame to the last..a genre collage and a great relief from the run of the mill feel goods recently.. ichaappi, haseeb, shane & each n every one in the screen gets imprinted deep and am sure they are gonna stay for awhile.. hats off to Saubin and thanks a ton to dop Littil Swayamp for giving such a visual treat..songs n bgm stood out and dear boy mr. Vinayak a big bigg hug for u bro.. on the whole, parava is something to be felt at a good theatre with your family and friends..
Vinay Govind
Parava is a gem of a movie where brilliant technical department meets with a great screenplay and gives a great experience for all your senses. Dulquer salmaan yet again proves with a genuine choice of supporting a different film with no qualms of stardom or screen space.Soubin announces his arrival as a director in style..!!
Stay tuned to this page for more celebs reviews on Soubin's Parava