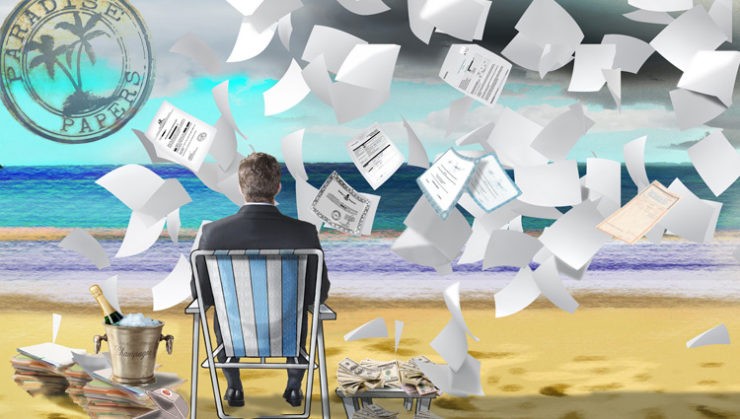 After 2016's Panama Papers, Indian Express in collaboration with the International Consortium of Investigative Journalists (ICIJ) and German newspaper Süddeutsche Zeitung on the midnight of November 5 unveiled what they are calling the biggest leak of financial data — the "Paradise Papers".
Interestingly, just like the Panama Papers, several prominent Indian individuals' and corporates' names have surfaced in this investigation.
From film actor Amitabh Bachchan to corporate lobbyist Nira Radia, from fugitive liquor baron Vijay Mallya to Minister of State for Civil Aviation Jayant Sinha have been accused of routing their money to tax havens located in various parts of the world.
The the bulk of the documents, of which there are as many 13.4 million, are from Bermuda-based law firm Appleby.
Interestingly, it's an Indian company — Sun Group, founded by Nand Lal Khemka — that figures as Appleby's second-largest client internationally, with as many as 118 different offshore entities, reported IE as part of its 10-month investigation.
The probe revealed that firms included in the Sun-TV-Aircel-Maxis case; Essar-Loop 2G case; SNC-Lavalin case in which Kerala Chief Minister Pinarayi Vijayan was named and then cleared; the Rajasthan ambulance scam whose probe was recently handed over to CBI; the case of Ziquista Healthcare, in which former Congress minister Sachin Pilot and P Chidambaram son Karti Chidambaram were early honorary/independent directors, are mentioned in the Paradise papers.
YSR Congress chief YS Jagan Mohan Reddy is also apparently mentioned in the documents.
Besides corporates, the data reveals details of individuals like Amitabh Bachchan's shareholding in a Bermuda company acquired before the 2004 Liberalised Remittance Scheme kicked in.
Jayant Sinha's name figures in the records because of his past association with the Omidyar Network. Another BJP Rajya Sabha member and founder of Security and Intelligence Services (SIS) RK Sinha is named in the Malta list, IE reported.
In a series of tweets on November 6, Sinha defended himself saying the transactions were legal and bona fide.
"The transactions were undertaken on behalf of highly reputed world-leading organisations in my fiduciary role as partner at Omidyar Network and its designated representative on the D.Light Board," the minister said.
"It is crucial to note that these transactions were done for D.Light as an Omidyar representative, and not for any personal purpose," he added.
"After leaving Omidyar Network, I was asked to continue on the D.Light Board as an independent director... On joining the Union Council of Ministers, I immediately resigned from the D.Light Board and severed my involvement with the company," the minister said.
Controversial former liquor baron Vijay Mallya's name is also mentioned in the leaked documents.
It is said that liquor giant Diageo, which acquired Mallya's United Spirits Limited (USL), waived nearly $1.5 billion of debt of Mallya and his companies.
In another document, IE found that when Veerappa Moily was Union minister in the UPA government, his son Harsha Moily floated a firm which received investments from offshore firm Unitus Group.
The Indian Express said it's going to publish all the Indian findings in the Paradise Papers in a series of over 40 investigative reports.