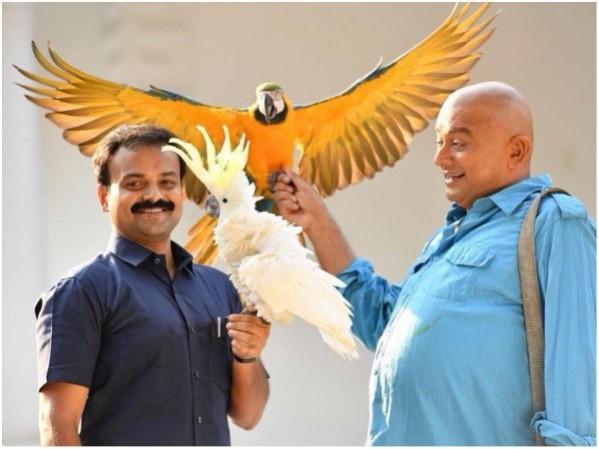 Actor and stand-up comedian Ramesh Pisharody has made his directorial debut with Panchavarna Thatha. After doing stage shows with Jayaram for over 15 years, the debutant could not have found a better actor to star in the film.
Kunchako Boban will be seen in an important role, while Anusree is the female lead. Salim Kumar, Mallika Sukumaran, Premkumar, Dharmajan, Joju George, Asokan and many others are in the supporting roles. Music in Panchavarna Thatha has been given by M Jayachandran and Nadirshah while Ouseppachan has worked on the background score.
Panchavarna Thatha has Pradeep Nair's cinematography, while editing is by V Sajan and Thyagu.
It has caught the viewers' attention after the first look went viral where Jayaram appeared with a bald head and a pot belly. The trailer has also created a positive buzz around Panchavarna Thatha.
However, two other biggies, Dileep's Kammara Sambhavam and Manju Warrier's Mohanlal, are hitting the screens for Vishu festival and it has to be seen how the audience will respond to the flick amid a fierce competition.
Reviews:
The morning shows are underway. We will bring you the viewers' updates as and when the netizens share their response about the flick.
Gani: #PanchavarnaThatha is not an out-and-out entertainer though there are some laughs and genuine moments here & there in the movie.
But outdated making style and predicabilty led it end with an average note..
Sarath: #Panchavarnathatha Really awesome.. Loved it.
Forum Keralam (FK): #PanchavarnaThatha is average at its best..A movie that offers you genuine laughs at times but makes you wonder what could have been better to make it a better product. Decent directorial debut by Pisharody with a superb perfomance from #Jayaram
Forum Reelz:#Panchavarnathatha :
Another Movie Which Tries To Tell The Recent Social Issues Mixed With Comedy But Fails To Create An Impact , Same Thing Happened Here
#RameshPisharady Failed Big Time To Bring His Grace In Stage Shows To His Directorial Debut
Overall An Average Stuff