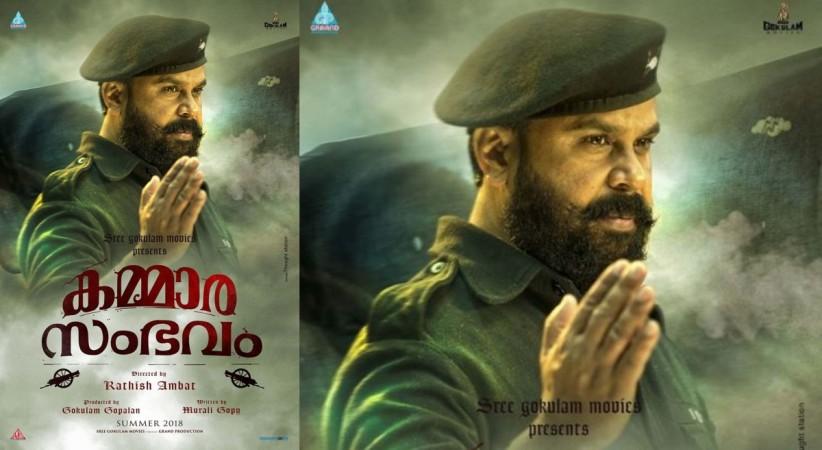 Dileep's much-awaited Kammara Sambhavam has opened to fairly positive reviews from the audience. The Malayalam movie was released on the occasion of Vishu festival.
After the success of Ramaleela, Dileep is back with Kammara Sambhavam, which has Bollywood and Tamil actor Siddharth playing an important role. Rathish Ambat, who was an ad filmmaker, is making his directorial debut with Kammara Sambhavam, a project on which he worked for four years.
Tamil actor Bobby Simha, Murali Gopi, Namitha Pramod, Shweta Mohan, Manikuttan, Vinay Forrt and others will be seen in supporting roles. The movie has Gopi Sundar's music, Suresh Urs' editing and Sunil KS's cinematography.
Story:
The movie tries to showcase how history can be manipulated and rewritten to suit one's convenience. A bunch of liquor barons decides to revive the political party, Indian Liberation Party, which is relegated to obscurity.
With an aim of revoking ban on alcohol in Kerala, they bring Kammaran Nambiar (Dileep) to attain their goal and they also hire a filmmaker (Bobby Simha) to make a biopic on him. In reality, Kammaran is a man with deceitful and narcissistic nature, who is a casteist. However, he changes the lives of his villagers after falling in love with Bhanu (Namita Pramod). What follows next should be seen on-screen.
Analysis
The movie has a solid story and smoothly slips between past and present. The movie is powered by Dileep's performance. His three avatars and the old man's look earns full marks. The story has brilliant visuals and Gopi Sunder's music blends well with the narration. However, the drawback is the length of the film. Moreover, the second half becomes predictable.
FInd the viewers' response:
Malayalam Review: Dissapointing One
Watchable First Half and Below Average Second Half
Very Lengthy
Average Script & Direction
2/5
Dileep & Sidharth
#KammaraSambhavam
Abhi: Watched #kammarasambhavam
A terrific cinematic experience
A complete #DSwag @Dileep_Online
@Actor_Siddharth what an actor man.A Pan Indian actor. An actor who has no boundaries
Brilliantly written by #Muraligopi
& Topnotch execution by #Ratheshambat
FAN: #KammaraSambhavam - 3.25/5
Murali Gopi's screenplay was at its best, debutant Ratheesh Ambat done his job decently, DOP & Music department was great. Dileep's performance having grey shade, was one among his career best & @Actor_Siddharth was good in his role.
Rinoy David: #KammaraSambhavam is different n refreshing. It have grt visuals n technical side was top notch considering the budget. Loved the 2nd half. TERRIFIC debut in malayalam by @Actor_Siddharth n #Dileep ettan steals the show. #Kammaran powli
rating 4/5
#KammaraSambhavam impressive lengthy 1st Half with good visuals n technically brilliant, didn't feel any lag
#Dileep negative shade #Sidharth
Pranav: #Kammarasambhavam first half good second half ok, ending could have been better
T MiSfIt: #KammaraSambhavam
Very different Story by Murali Gopy
How did he come up with tis one
Overall it's a good movie,good watch.
Shud hve a good BO run
I felt the movie cud have been better,it had even more potential.
Won't b Surprised if it's remade in other languages.
Kkunjachan: #Kammarasambhavam
Unexpected kind of movie . First of it genre in our industry i guess.
Liked it. one song in second half was unnecessary. Is slow paced and bit lengthy but ll keep us engaged. Technically brilliant. Fans may not like. Recommending
Smart Barani: #KammaraSambhavam a refreshing 3 hours movie .. an average and decent first half follows 2nd half with good mass and little humour moments .. .. technically so good ... BGM watchable once ... little patience needed though (3.25/5)
KeralaBoxofficeStats: #Kammarasambhavam
Technically brilliant product with nice blend of mass and class. Opportunities of black humour has been utilised perfectly. @Actor_Siddarth makes a perfect debut in MTown. Special mention to his effort in dubbing the movie by himself. LipSync was perfect.
#Kammarasambhavam
Terrific Movie in One word.Great comebk by #MuraliGopy after the debacle of #Tiyaan Promising debut by #RatheeshAmbat
#Dileep silences his critics by a never before seen stunning performance!
Direction and every other dept Good
BGM
4/5
B-L-O-C-K-B-U-S-T-E-R
Review Ram: #KammaraSambhavam (Malayalam) - Interval - Extremely slow with so many lengthy scenes. Narration is impressive with regular elements shown differently. 'Okay' so far. @Actor_Siddharth #Dileep #BobbySimha
#KammaraSambhavam (Malayalam) - A serious drama which turns into a big sick joke post midway. Innovative paper work gone wrong while execution. @Actor_Siddharth #Dileep #BobbySimha
Forum Keralam (FK): #Kammarasambhavam Refreshingly Good and Interesting Cinematic ExperienceA realistic feel first half followed by a mass commercial second half with subtle humour background [1/2]
Excellent Performance from #Dileep as Kammaran@Actor_Siddharth was equally good.
Technically BrilliantDoes justice to the taglines that were given
#KammaraSambhavam Recommened
#KammaraSambhavam Interval.. Has been decent so far...Another movie on the lines of cinema insider cinema..
Dileep's characterizationSidharth
Technically top notch. The pace at which the movie moves could be an issue to some !!
#KammaraSambhavam First Half

• Frames ?
• BGM Score?
• All Character Performance?
• Art Dir.?
• Kammaran Character ?

Above Avg First Half

— ഉണ്ണിയേട്ടൻ (@roopeshraveend1) April 14, 2018
Malayalam box office: #KammaraSambhavam impressive so far even though it's been slow
Visual Treat
#Dileep
Gud direction✌
Waiting for 2nd Half.
Forum Reelz: First Half
Abv Avg First Half
Technically brilliant
Superb frames
#Kammaran as a traitor looks convincing
sadiq ali: #Kammarasambhavam
Very good first half (cinema inside cinema)
Dileep is excellent as cunning man
@Actor_Siddharth ,
Unexpected story, didn't seeem like debut director's movie.
Lengthy though...!
WILDBERRIES: #KammaraSambhavam
We can see the excellency in making of kammaran!!
Othenan Nambiar #Siddharth just rocked....awesome visuals and BGM!!!!
But Don't know how family audience take the movie!!as it's going in a little slow pace!!
Waiting for 2nd half!!
Friday Matinee: #KammaraSambhavam - A superb cinematic experience thanks to its lead actors and Technical Brilliance Hats off #RatheeshAmbat for executing this kinda script in an entertaining fashion ☺️ Back- back success for both Dileep the actor as well as SuperStar ☺️
#KammaraSambhavam 1st half- A fine 1st half with Excellent performance from Lead Actors : @Actor_Siddharth and #Dileep . Technical Side is terrific as well as bgm.
@Dileep_Online @rameshlaus @KeralaBO1 @BOkerala @LMKMovieManiac @e4echennai