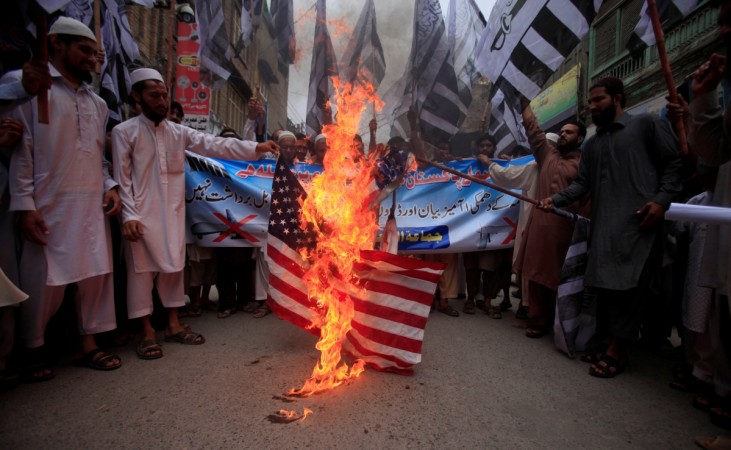 Pakistan's special Kashmir Envoy, Mushahid Hussain Syed, has reportedly said that the Nawaz Sharif government may move towards China and Russia as the US influence and its "world power" status is waning.
"(The) US is no longer a world power. It is a declining power. Forget about it," Syed said while interacting with members of Atlantic Council, an American think-tank, PTI reported.
Syed was accompanied by Shazra Mansab, another Pakistani envoy on Kashmir. They attended the event to sell Pakistani government's viewpoint on Kashmir. They accused the United States of not heeding to them.
According to the report, Syed even warned that his country might move towards China and Russia if US did not listen to its views on Kashmir, where according to its claims, Indian security forces commit human rights violations.
The report noted that Syed's views were not recorded, but everyone in the room heard it. Syed also submitted a dossier on India's alleged human rights violations in Kashmir to Richard Olson, US Special Envoy for Afghanistan and Pakistan.
The envoy pointed out that Russian President Vladimir Putin is ready to sell them weapons, and Pakistan is interested in MiG-35, the latest in the MiG series fighter aircraft.
Syed said that the US must not have "double standards" when it comes to Kashmir and plainly told that "when you talk of peace in Kabul, you have to ensure that Kashmir is not burning." He also highlighted that the US must not let Kashmir suffer just because there is no oil or it's not in Europe.
He also said that Pakistan wants to continue having a long-standing relationship with the US, but pointed out that China is also getting involved in the region with its massive investments on the China Pakistan Economic Corridor (CPEC). According to Syed, Iran, Turkey and Saudi Arabia were also interested in the project.