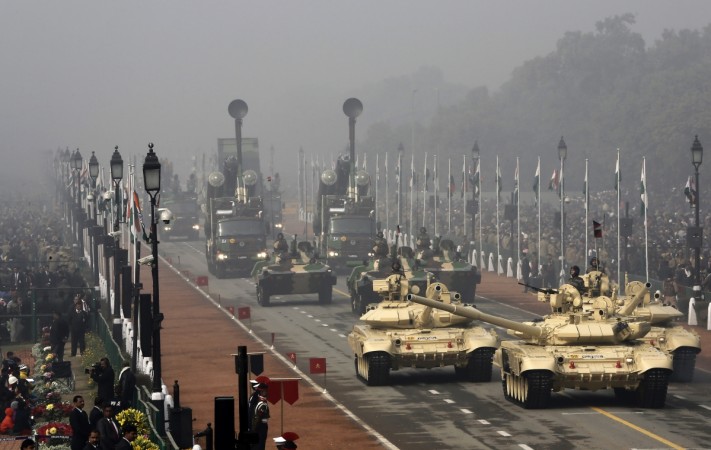 Pakistan's massive defence modernisation programme is worrying Indian experts in the backdrop of a recent increase in hostilities over the line of control (LoC) in Jammu and Kashmir.
While Indian plans for modernising its defence forces including the induction of French fighter jet Rafale is limping because of bureaucratic red tape and political indecision, the country's western neighbour is acquiring modern weaponry at a worrisome pace, reports show.
Islamabad is set to procure nearly 600 main battle tanks, including the advanced T-90s from Russia, military and intelligence sources reveal.
It worries defence experts that Pakistan's new tanks will have a state-of-the-art fire control system for increased accuracy and range of up to 4 km, an agency report says.
Pakistan Army's shopping list is long and includes 245 Mike-10 150mm SP guns from Italy. It has already inducted approximately 120 such highly accurate guns.
There is considerable concern in the defence circles in New Delhi that Pakistan has advanced in talks with Russia to procure the deadly T-90 main battle tanks. They are the mainstay of the armoured regiments of the Indian Army.
Defence sources say India currently has 1,650 T-90S and T-90M variants. The government has approved a $1.4-billion purchase of 464 new T-90MS variant tanks for 8 tank regiments on the China border.
India has been watching with growing concern the joint military drills of Pakistan with Russia over the last couple of years.
Apart from procuring about 360 battle tanks from leading global manufacturers, Pakistan plans to produce 220 tanks indigenously with Chinese help as part of an ambitious plan to revamp its armoured fleet by 2025.
There is an increasing concern on the Indian side of the international border and the LoC that modern armoury could worsen the continuing aggressive posture from their western neighbour. India has also been worried about Pakistan's plans to beef up its missile regiments.
A report attributed to military sources says the modernisation of the Indian Army's armoured regiments has been sluggish due to procedural delays and high-level government scrutiny. A mega plan of the army to modernise the infantry and armoured corps have been pending at different levels of the government. A Rs 60,000-crore programme to acquire Futuristic Infantry Combat Vehicles (FICV) is also apparently lost in the procedural labyrinth.