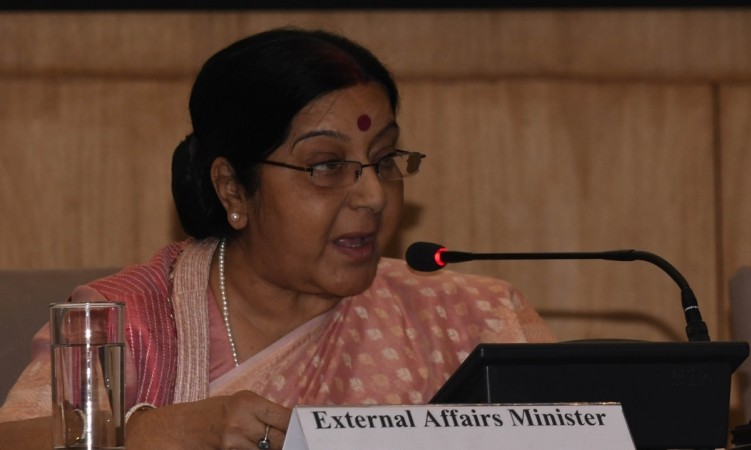 Foreign minister Sushma Swaraj has been receiving all the praise on the social media especially for offering help via her prompt responses on Twitter.
A few Pakistani women are now seen joining the chorus and praising India's external affairs minister. Ms Asif, a Pakistani woman, had sought Sushma Swaraj's intervention on behalf of a Pakistani national who wanted to get medical treatment in India. The person who needed the visa was issued one after the minister intervened.
A recent tweet by @Hijaab_asif read: "Lots and Lots of Love and respect from here. Wish you were our prime minister. this country would have changed"
The Indian High Commission in Islamabad, in its reply, had tweeted this.
Maam, we are in touch with the applicant. Rest assured we will follow it up.

— India in Pakistan (@IndiainPakistan) July 27, 2017
Ms Asif in response to Sushma's tweet said:
@SushmaSwaraj what do I call you? Superwoman? God? No words to describe your generosity! Love you maam Can't stop praising you in tears!??❤️

— Hijaab asif (@Hijaab_asif) July 27, 2017
Lots and lost of love and respect from here. Wish you were our Prime Minister, this country would've changed!

— Hijaab asif (@Hijaab_asif) July 27, 2017
Pakistanis don't deserve her at all

— Hijaab asif (@Hijaab_asif) July 27, 2017
A number of Pakistani nationals travel to India for medical treatment. It is reported that Indian hospitals like Apollo in Delhi receive as many as 500 patients from Pakistan every month.
The medical visa process seems to have slowed down after Pakistani Court announced death sentence to Kulbhushan Jadhav over allegations of espionage.
Earlier this month, Sushma came to the rescue of one Osama Ali, a man from Pakistan occupied Kashmir (PoK), who wanted a visa to Delhi to get his liver tumour treated. Ali had said that Pakistan's foreign ministry adviser Sartaj Aziz refused to write to the Indian High Commission about his plea. In reply to this, Sushma said that being a resident of PoK, which also belongs to India, he did not need any letter from Pakistan.
Here's the video: