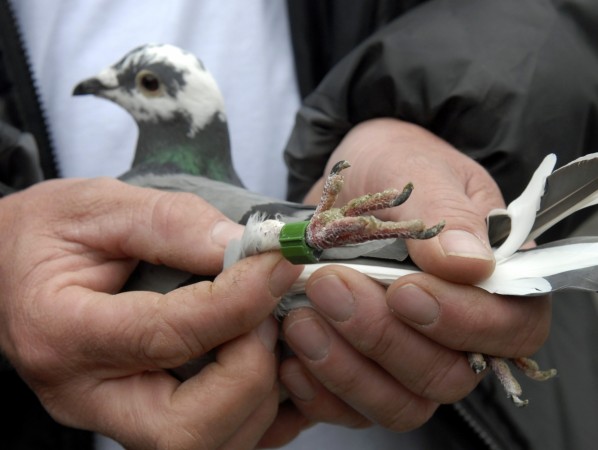 A white pigeon that flew into a Pathankot village in India's Punjab state bearing a Pakistani stamp has raised security concerns, with the bird earning the moniker 'Pakistani spy pigeon'.
The pigeon was spotted on Wednesday by a local in a village in Pathankot and had a Urdu stamp that read "Tehsil Shakargarh, district Narowal" on its tail.
Shakargarh is a tehsil in Narowal district in Pakistan's Punjab province.
The white pigeon also reportedly had a wire-like object on its body.
The villager promptly took the suspicious pigeon to the police, who 'arrested' the bird and put it through an X-Ray examination, according to reports. However, the X-Ray tests have not yielded anything significant.
The bird was also stamped with numbers that appeared to be a landline number in Pakistan's Narowal district, The Times of India reported.
The police reportedly noted a diary entry calling the bird a 'suspected spy'.
What has further created a flutter among security circles is that the bird was spotted just two days after the Intelligence Bureau (IB) sent an alert to the Punjab Police that the Indian Mujahideen was active in Pathankot.
The IB and the Border Security Force have been alerted about the 'spy pigeon', which still remains in custody.
The incident has come just two months after a pigeon was spotted near the Pakistan border in Gujarat with a chip on its leg and an Urdu message stamped on it. Nothing conclusive had come from the investigation of that bird.
Birds have come to be used by terror groups as 'suicide bombers', with a case recently in Afghanistan, when a bird fitted with explosives and a GPS tracker exploded after it was shot by police in December.