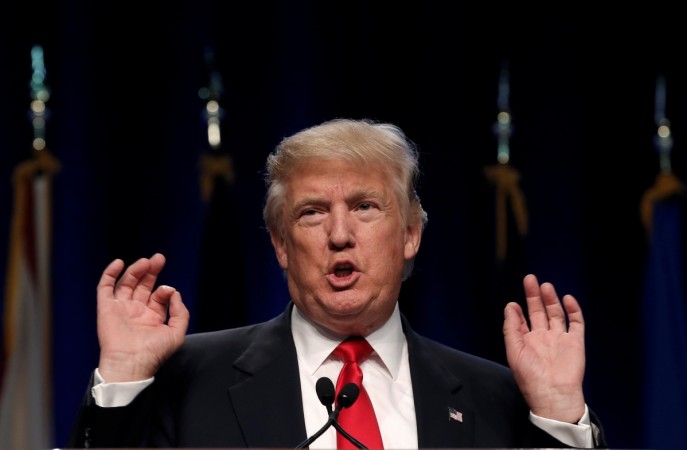 A seven-year-old Muslim boy of Pakistani origin was bullied and beaten up by five students in a school bus in North Carolina for allegedly being a Muslim last Friday. His father has blamed US Republican presidential candidate Donald Trump's hateful rhetoric against Muslims for the attack.
"Welcome to the United States of America of Donald Trump. Meet my son Abdul Aziz. He is in grade one, bullied and beaten by his own classmates in school bus for being a Muslim," Zeeshan-ul-hassan Usmani, the boy's father, wrote in a Facebook post along with a photo of his son Aziz with his left arm in a sling.
The family has left the US and has returned to their home in Pakistan.
"These are six and seven year old kids calling him names, with one kid punching him in the face, while two other kids attacked him, kicked him, and held his arms back. They keep beating him all the way from school to home on the bus," Usmani told Buzzfeed News describing his son "as American as you can get."
Aziz was a student of Weatherstone Elementary School in Cary, North Carolina. Usmani added that his son has sprained his left arm and is traumatised by the attack.
Lisa Luten, a spokesperson for the Wake County Public School System said that the school's principal launched an investigation into the alleged incident after the family informed them about it.
"[The principal] interviewed seven students sitting near this child, and none of the students, nor the bus driver, witnessed any type of altercation or incident... When [the family] originally shared the information, they didn't share any info about religion or race, and just that their child was bullied," Luten said, adding that the Usmani family has been out of reach since Friday.
Usmani, an award-winning Pakistani scientist, told Buzzfeed that a neighbour harassed his family for months for being Muslims and that his other son was also called a terrorist. He also claimed that a student tried to force feed his son after finding out that he only consumed halal (meat slaughtered and prepared according to Islamic law) food.
"Times are changing and it's not the America we always thought of and believed in. It's not the America that I studied in. If Trump wins, America will be great again, but a great that nobody will care about," Usmani said.