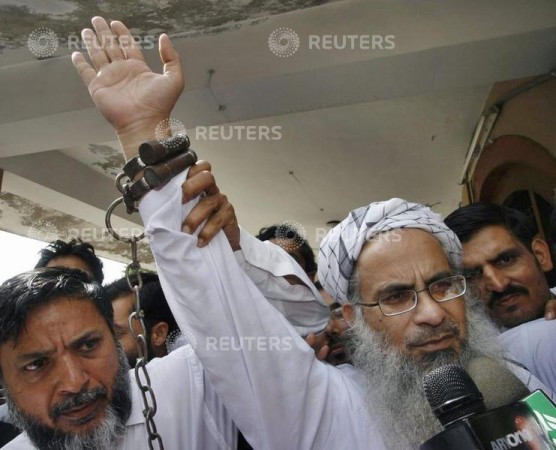 A radical Pakistani cleric, who refused to condemn the Peshawar school massacre that left 132 children dead, is set to be arrested for threatening protesters outside the Lal Masjid.
An Islamabad court issued a non-bailable arrest warrant against Lal Masjid cleric Maulana Abdul Aziz on Friday. The cleric is known to openly sympathise with terror groups such as the Taliban and had also reportedly named a library in a madrassa he runs after former al-Qaeda head Osama bin Laden.
He defended the attack by the Tehreek-e-Taliban Pakistan on the Peshawar army school on 16 December, calling it retaliation against the army's offensive. However, the case against him is reportedly for threatening protesters, and not for his support of terror groups.
Several civil society members have been protesting outside the mosque against the cleric, despite receiving death threats from Tehreek-e-Taliban Pakistan Jamaat Ahrar (TTP-JA). They had lodged an FIR againt Aziz, accusing him and his mosque members of threatening protesters.
The non-bailable FIR was registered under section 506 (2) of the Pakistan Penal Code related to criminal intimidation and threats.
"This is a common man's protest against all the rogue clerics who manipulate and use the name of Islam for their own interests," Jibran Nasir, an activist leading the protest, told The Express Tribune. Nasir said he had received a threatening call from the Taliban faction.
Thank u Civil Society. Thank u Islmabad. Thank u Pakistan. We couldn't give a better gift to QuaideAzam. Warrant issued for #ArrestAbdulAziz

— Jibran Nasir (@MJibranNasir) December 26, 2014
The mosque will resist the cleric's arrest, its spokesman said after the warrant was issued.
Aziz even dismissed the warrant as a small issue, asking authorities to focus on more serious crimes.
"My case is very small and even a sub-inspector can grant me bail," the cleric said, according to BBC.