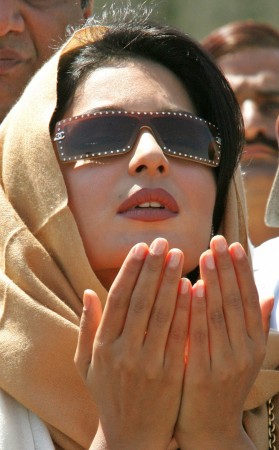 Federal Investigation Agency (FIA) will now be investigating the controversial sex tape of Pakistani actress Meera and her husband Capt Naveed Shahzad. A sessions court in Pakistan ordered the FIA on Monday to investigate and file the case.
On 7 April, the court ordered police to file a case, arrest the couple and investigate the controversial sex tape, which went viral on social networking sites. However, in the last hearing police said that FIA has the right to register the case against the couple, Dawn.com reported.
Following this, the court directed FIA to investigate the case and present the report on the issue.
Meera landed into controversy after the video went viral online in January.
Bashir Ahmad had filed a petition in the court against the couple for recording their sexual act. In his petition, Ahmad claimed that the actress and her husband are spreading obscenity and also challenged Islamic values by filming their sexual act.
Based on the petition, Additional District and Sessions Judge Safdar Bhatti ordered local police to register a case, arrest the couple and produce them before court. But the couple failed to appear in court.
"A case should be registered against the couple in accordance with law and investigate their objectionable video," the court order said, according to Press Trust of India.
Meanwhile, Meera and her lawyer have said that the video is a motive to damage her reputation in front of her fans and public.
"It is a fake video as the girl in it has put on a 'Meera face mask.' The video should be sent to the US for forensic tests as Pakistan has no such facility," Meera said, according to the Daily Mail.
(ED:VS)