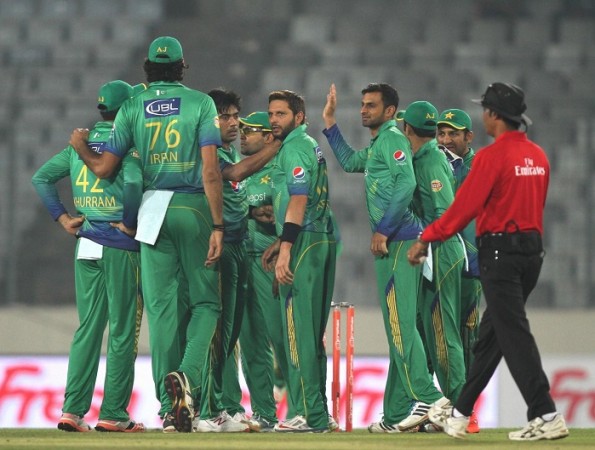 Again, for the third straight match in this 2016 Asia Cup T20, UAE had a sniff, more than a sniff in fact, but they just could not cross the line, with Umar Akmal and Shoaib Malik putting on a measured partnership to take Pakistan home in Mirpur.
Choosing to bat first, the UAE, after losing three early wickets, did extremely well to get to 129/6 in their 20 overs, with Pakistan, who also had three down early, making heavy weather of the chase before the experience of Malik (63 n.o., 49b, 7x4, 3x6) and Akmal (50 n.o., 46b, 2x4, 3x6)saw the side through to victory.
Pakistan were expected to cruise this chase on a not-as-tricky-as-it-has-been-rest-of-the-tournament wicket, but skipper Amjad Javed had other ideas, picking up three wickets in his first seven legal balls.
The first to go was Sharjeel Khan, who was unlucky to be given out lbw, before Khurram Manzoor was caught behind to make it two wickets for Javed in three balls. In the first ball of his next over – UAE's fourth – the experienced Mohammad Hafeez also fell, hitting a drive straight to the Fahad Tariq in covers.
At 17/3, Pakistan had to get the rebuild on, and that is precisely what Akmal and Malik did. Akmal, usually aggressive from the word go, was a lot more disciplined, knowing he couldn't throw his wicket away, with Malik also showing patience in taking Pakistan as close to the target as possible, before kicking into top gear.
The duo took Pakistan to 64/3 in 13 overs, and with the equation reading 66 runs from 42 balls at that point, they started looking for those boundaries and sixes, and found them. With those boundaries, the equation came down to a quite makeable 46 from 30 balls, with the UAE bowlers unable to handle the pressure that was suddenly piled on them.
Malik, dropped on 41, and Akmal put on 114 unbeaten runs together to eventually ease Pakistan to victory with eight balls to spare.
Earlier, Pakistan were expected to run through the UAE batting lineup, and for the first four overs it looked certain to happen, as the UAE lost three wickets, with Mohammad Amir, who finished with stellar figures of 4-1-6-2, despite not being at his best, Mohammad Sami and Mohammad Irfan picking up a wicket each.
At 12/3 in 4 overs, you would have put good money on the UAE folding for a score of under 100, but the Associate side showed some real fight and quality, with Shaiman Anwar (46, 42b, 5x4, 2x6) leading the way.
Anwar, who hit that wonderful century against Ireland in the 50-over World Cup in Australia and New Zealand last year, played intelligent cricket, biding his time, while making sure he put those bad balls away.
Once the spinners came on, Anwar seemed to go up a gear and the UAE, with it, slowly, but surely, built their innings towards a total they could at least attempt to defend.
There were three key partnerships in this UAE innings, with the first one between Anwar and Usman Mushtaq worth 29, the rebuilding after losing three wickets one.
Then Anwar and Muhammad Usman (21, 17b, 2x4, 1x6) put on 31 in just 2.4 overs together, before Usman and captain Javed (27, 18b, 3x4, 2x6) combined for 46 from a shade over 5.2 overs to propel UAE to 129, which, eventually proved to be just not enough.
Get the highlights of the match HERE