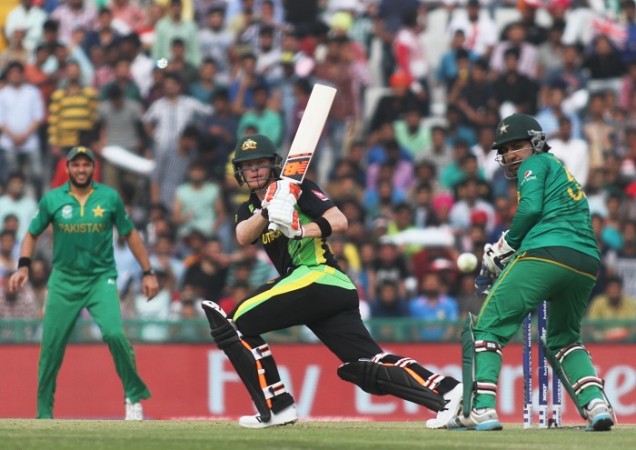 India vs Australia in Mohali on Sunday is going to be a win-and-you-are-in-the-semifinal Group 2 match. That scenario came into the picture after Australia eased past Pakistan to knock the latter out of the ICC World T20 2016.
Shahid Afridi, if he does retire, did not get a fond farewell, as Pakistan fumbled in a chase again, handing Australia a big 21-run victory in Mohali. Choosing to bat first, Australia posted a big-but-not-unchaseable 193/4 in their 20 overs on a flat deck at the PCA Stadium, and once that total was on Pakistan's issues chasing a score came to the fore, as Afridi's side finished on 172/8.
The win for Australia means they have two wins from three matches, just like India, which makes their final Group 2 match on Sunday a virtual quarterfinal. The winner of that match will go through to the semifinal along with the already-qualified New Zealand, with Pakistan taking an early flight back home.
The writing was on the wall, really, when Australia won the toss and chose to bat first on a nice batting deck. With the firepower that Australia have and on a wicket that was coming on nicely enough, there was no way they would post a score lesser than 160, and once Steve Smith (61 n.o., 43b, 7x4), Glenn Maxwell (30, 18b, 3x4, 1x6) and Shane Watson (44 n.o., 21b, 4x4, 3x6) drove that score to 193, it was as good as done.
Pakistan's chase got off to a decent start, courtesy Sharjeel Khan (30, 19b, 6x4) again, but Ahmed Shehzad failed to impress, falling for a poor shot, when all he needed to do was take a single and give his opening partner the strike. Khalid Latif (46, 41b, 4x4, 1x6) came in and tried his best, but once Sharjeel was castled by James Faulkner, who finished with career-best figures of 4-0-27-5, Pakistan's fate rested on their two most mercurial batsmen – Umar Akmal and Afridi.
This is where the Adam Zampa (4-0-32-2) came in, with the impressive legspinner picking up both Akmal (32, 20b, 3x4, 1x6) and Afridi (14, 6b, 2x6) to end even the slimmest of hopes of a Pakistan win, despite the best efforts of Shoaib Malik (40 n.o., 20b, 2x4, 2x6).
Earlier, Australia got solid contributions from most of their batsmen, with Smith, coming in at No.4, after Usman Khawaja, Aaron Finch and David Warner, anchoring the innings to perfection. Singles and rotation of the strike are never a worry when Smith is at the crease, and the captain batted wonderfully well around Maxwell and Watson, who went into slam-bang mode in style.
Maxwell and Smith put on 62 runs together for the fourth wicket at nearly ten runs an over, before Watson, in his last few games in international cricket, came in and pummelled the white cherry to all parts of the ground. Watson and Smith allied for an unbeaten74 runs at nearly 12 runs an over to take the game away from Pakistan.
Watch the match highlights of Pakistan vs Australia HERE