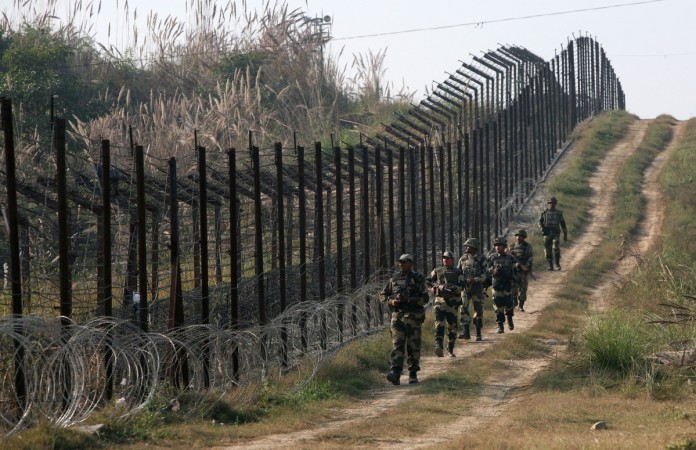 Within two days of the terrorist attack on Indian Army base in Uri, 10 out of the 15 terrorists attempting to cross over to the India side of the border from Pakistan were gunned down by the Army at Lachipura area of Uri sector in Jammu and Kashmir. A ceasefire violation was reported on Tuesday at the India-Pakistan border in the Uri sector of Baramulla district.
The infiltration attempt and the firing from across the border started after four terrorists from Pakistan entered an Indian Army base in Uri on Sunday and opened fire with AK-47s on the soldiers who were sleeping in the camp. The attack killed 18 Indian soldiers and many are critically injured. A high-level meeting was called on Monday where the prime minister was briefed about the attack.
The Indian Army confirmed the ceasefire violation and the exchange of small firing across the border with the Pakistani Army at the Line of Control in Lacchipora and Mahiyan Boniyar.
"There has been a ceasefire violation in Uri sector – small arms. It has not been intense or continuous firing from across. We are trying to ascertain details and will let you know," a Defence spokesperson in Srinagar said. Reports state that Pakistani Rangers violated the 2003 ceasefire agreement along the international boundary and the LoC.
India slammed Pakistan on Tuesday at the United Nations Human Rights Council (UNHRC) and blamed it for allowing terrorist organisations and terrorists like Hafiz Saeed and Syed Salahuddin to thrive freely in its country.
India asked Pakistan to terminate the cross-border infiltration to stop acting as an epicentre for terrorism and dismantle terrorist organisations breeding on its turf instead of "internationalising" the Kashmir issue.