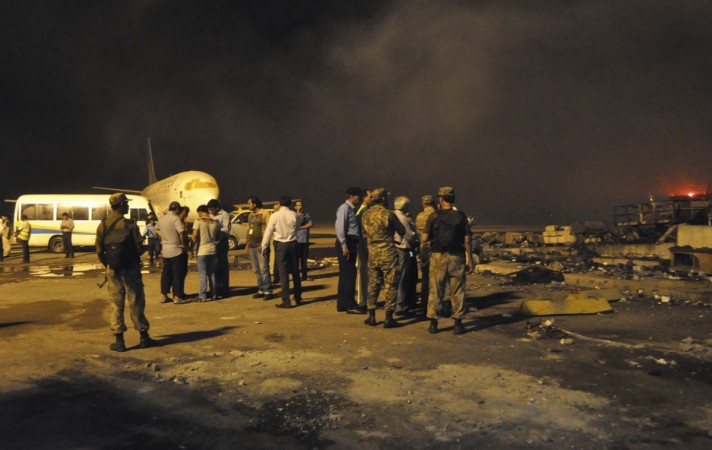 The Pakistani army has responded to Taliban's bloodshed and violence inside an airport, by killing at least 15 militants in dramatic air strikes in tribal area in north-west of the country, officials have said.
An army statement says the air raid on Tuesday morning pounded nine hideouts of the militants located in the Tirah Valley of the Khyber tribal region.
Home to a mix of local militants and al-Qaida-linked fighters, the area is known to be a part of a lawless terrain along the Afghan border.
As if to signal a war between Pakistan and Taliban in the offing, the impressive air raids come less than 36 hours after a group of 10 aggressive militants staged an attack inside Karachi airport that killed at least 30 people and invited new challenge to the nation already crippled by years of fighting that have claimed thousands of lives.
Justifying Monday's assault, the Pakistani Taliban said that the attack was in revenge for the killing of their leader last year in a drone strike. The leader, Hakimullah Mehsud, was targeted last November, as the vehicle he used was struck with four missiles in north-western region of North Waziristan.
After Monday's attack, the Taliban vowed to continue a campaign of terror. "This is just the beginning," Dawn quoted Shahidullah Shahid, spokesman for the militant group.
"We have taken revenge for one (Mehsud), we have to take revenge for hundreds," he said adding: "We carried out this attack on the Karachi airport and it is a message to the Pakistan government that we are still alive to react over the killings of innocent people in bomb attacks on their villages".
Ten men armed with machine guns, grenades and rocket launchers stormed the busy airport slightly after midnight Monday at a terminal for cargo and VIP passengers. Some of the attackers reportedly wore suicide vests.
According to Pakistani sources, seven of the 10 terrorist were killed by security forces, while the rest of them blew themselves up during the fight. Some of the attackers were disguised as airport security personnel, reports say.