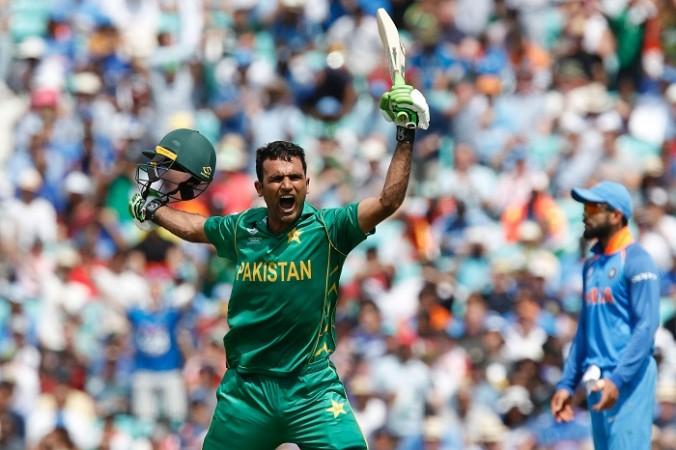 Days after scripting history by becoming Pakistan's leading run-scorer in ODIs, left-handed Fakhar Zaman entered record books today too as he became the fastest batsman to breach the 1000 runs in ODIs.
Fakhar achieved the record in the fifth and final ODI match against Zimbabwe at Bulawayo, when he scored 20 runs to attain the feat. He cruised past the record which was previously held by West Indies legend Sir Vivian Richards. While Viv held the record in 21 innings, Zaman did it in just 18 innings.
Apart from this aforementioned feat, Fakhar scored 515 runs in this series and was dismissed only twice. He sits behind only Indian captain Virat Kohli, who scored 558 runs earlier this year against South Africa. Fakhar averaged an astounding 257.50 in the series, and he easily shattered the previous record held by Salman Butt who scored 451 runs in a five-match rubber against Bangladesh back in 2007-08.
When he was dismissed in the fifth and final ODI, he had scored 455 runs between two dismissals, which is yet another record.
However, the biggest talking point of the day was him cruising past the 1000 runs ODI mark. It should be mentioned here that controversial England batsman Kevin Pietersen comes third in the list as he too took 21 innings to reach 1000 ODI runs. Jonathan Trott reached the feat in 2011, and incidentally, even he took 21 innings.
Protea wicket-keeper batsman Quinton de Kock too just took 21 innings to cross the landmark and it came in the 2012-2013 season when he enjoyed an extended purple patch. Fakhar's compatriot Babar Azam was very close to breaking the all-time record last season but then had to settle with 21 innings and joined the elite list.
The present-day white ball giants in Hashim Amla, Virat Kohli and Shikhar Dhawan are far behind on the list as each of them took 24 innings to cross the 1000-run mark.
Here is the list of the batsmen who have reached the 1000-run ODI mark in the fewest innings:
#1 Fakhar Zaman (2017 to *present)- 18 innings
#2 Sir Viv Richards (1975 to 1980) - 21 innings
#2 Kevin Pietersen (2004 to 2006) - 21 innings
#2 Jonathan Trott (2009 to 2011) - 21 innings
#2 Quinton de Kock (2013 to 2014) - 21 innings
#2 Babar Azam (2015 to 2017) - 21 innings
#3 Gordon Greenidge (1975 to 1980) - 23 innings
#3 Ryan ten Doeschate (2006 to 2009) - 23 innings
#3 Azhar Ali (2011 to 2015) - 23 innings
#4 Glenn Turner (1973 to 1983) - 24 innings
#4 Yasir Hameed (2003 to 2004) - 24 innings
#4 Hashim Amla (2008 to 2010) - 24 innings
#4 Virat Kohli (2008 to 2010) - 24 innings
#4 Shikhar Dhawan (2010 to 2013) - 24 innings