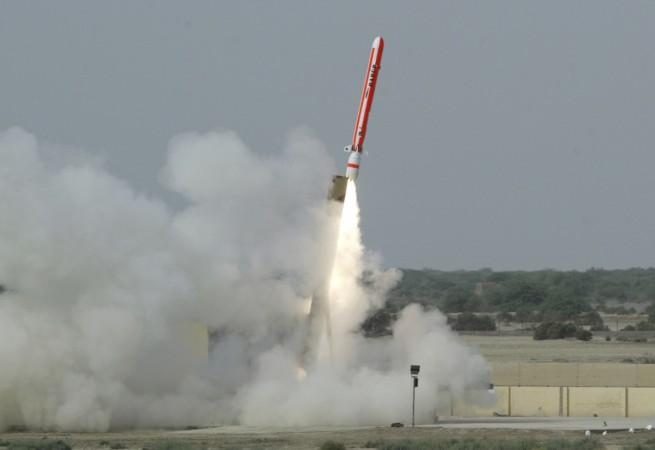 Pakistan has, over the weekend successfully test fired their Babur cruise missile. It is a series of missile designed and built in the country. Earlier this year, Pakistan also tested a submarine launched version of the Barbur.
According to a release by the Pakistan Inter-Services Public Relations (ISPR), the test was carried out on what they are calling an "enhanced range version" of the missile code named Babur Weapon System-1 (B). The missile's capabilities include, "advanced aerodynamics and avionics that can strike targets both at land and sea with high accuracy, at a range of 700 kilometers." The Submarine-launched version of the Babur, according to the Pakistani Army has a range of 450 km.
The Babur long range missile is capable of hugging the terrain it flies over, using what they are calling Terrain Contour Matching (Tercom) technology. It works by having a preset contour map fed into the missile's navigation while also running a parallel real-time radar positioning system that constantly compares the terrain below to the preset maps, making the flight quick and accurate. Tercom also allows the missile to fly over regions relatively close to the ground, kepping it stealthy and out of reach of ground radar.
Apart from Tercom, the Babur is also equipped with "all time Digital Scene Matching and Area Co-relation (Dsmac)" says the release. This is a second navigation system that reportedly gives the Babur pinpoint accuracy. Working even in the absence of GPS navigation, this system can deliver payload across various types of terrain.
While it is not clear what kind of weapon the Babur will deliver, the release simply mentions that it will be used to carry "various types of warheads". Pakistan is a member of the global "nuclear club", but it is not clear at this time if the Babur will be used to deliver them. The country reportedly has between over 140 nuclear warheads as of December 2017, according to report by the Federation of American Scientists (FAS).
While the test was not overseen by the country's President and Prime Minister, they reportedly conveyed their appreciations to the Army engineers, says the ISPR release.