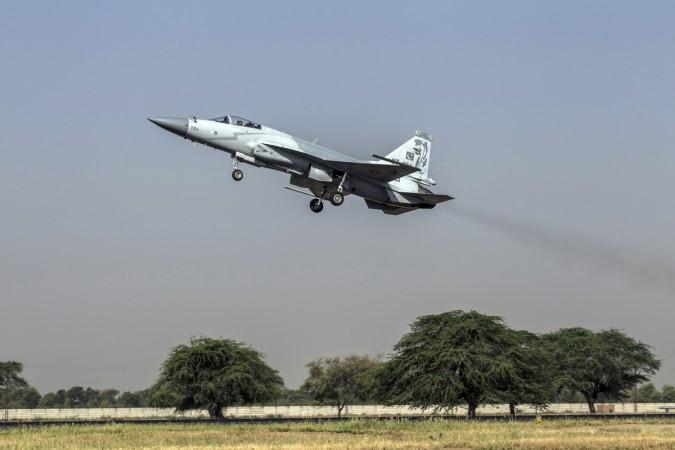 Pakistan wants to increase the number of its lightweight, multi-role JF-17 Thunder from the current 70 to 250, the Express Tribune reported, citing an official of the Pakistan Air Force. It was earlier reported that Pakistan Air Force has officially committed to procuring 150 JF-17, across all the three production blocks (Block-I, Block-II, and Block-III). The aircraft was created with a strong export potential.
The JF-17, which was created with Chinese collaboration, is assembled in Pakistan. It was intended to be an affordable and modern replacement to Mirage III and F-7 interceptors.
Following reports that Nigeria and Saudi Arabia were interested in buying the JF-17, former Soviet Union country Azerbaijan has reportedly shown interest in the JF-17 Thunder, according to a tweet by aviation journalist Alan Warnes.
The news comes after Pakistani Prime Minister Nawaz Sharif's visit to Azerbaijan. The two countries said in a statement that they would engage in co-production and training. In November, the two countries also signed a bilateral defence cooperation agreement.
Azerbaijan is also interested in buying the MFI-395 Super Mushshak as a basic trainer. Turkey too recently signed a deal for 52 Super Mushshak aircraft. The Super Mushshaks are built by state-owned Pakistan Aeronautical Complex (PAC) from a version of the Saab MFI-17 Supporter aircraft that has been acquired by Iran, Iraq, Oman, and Saudi Arabia. Nigeria too has ordered it.
Azerbaijan has renewed its interest in JF-17. It is even considering the Super Mushshak now as a primary trainer.

— Alan Warnes (@warnesyworld) November 23, 2016
Meanwhile, Rana Tanveer Hussain, Pakistani Minister for Defence Production, noted that defence exports have increased from $75 million to $100 million, Express Tribune said.