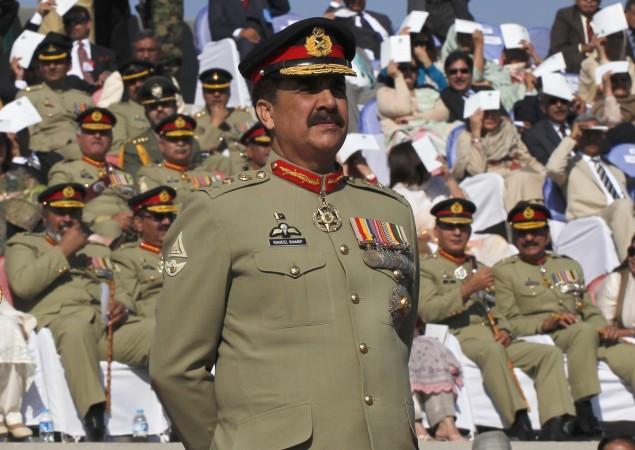 Pakistan's Army Chief Raheel Sharif has once again stoked controversy by stating on Wednesday that Kashmir is "an unfinished agenda of partition" and that Pakistan and Kashmir are 'inseparable'.
He also called for Kashmir's "just resolution in the light of United Nations resolutions", during an address at the National Defense University on Wednesday.
"While we wish for peace and stability in region, we want Kashmir's just resolution in the light of United Nations resolutions and as per aspirations of the Kashmiri people to bring lasting peace in region," General Raheel Sharif said, according to tweets by Asim Bajwa, spokesman of the Pakistani armed forces' Inter-Services Public Relations (ISPR).
The Pakistani Army chief's fresh salvo comes weeks after the Pakistani Army publicly accused Indian intelligence wing RAW of supporting terrorism in Pakistan for the first time.
In yet another sly reference to India, Sharif said, "While our enemies supporting terrorism to stoke sub-conventional conflicts and destabilise our country, we are fully determined, capable of defeating nefarious designs.
"Pakistan is opposed to the use proxies against other countries and won't allow any country to use proxies versus Pakistan."
Kashmir is an unfinished agenda of partition,Pak &Kashmir are inseparable.While we wish peace, stability in region,we want Kashmir's...5/6

— AsimBajwaISPR (@AsimBajwaISPR) June 3, 2015
Just Resolution in the light of UN resolutions & as per aspirations of Kashmiris to bring lasting peace in region-6/6 — AsimBajwaISPR (@AsimBajwaISPR) June 3, 2015