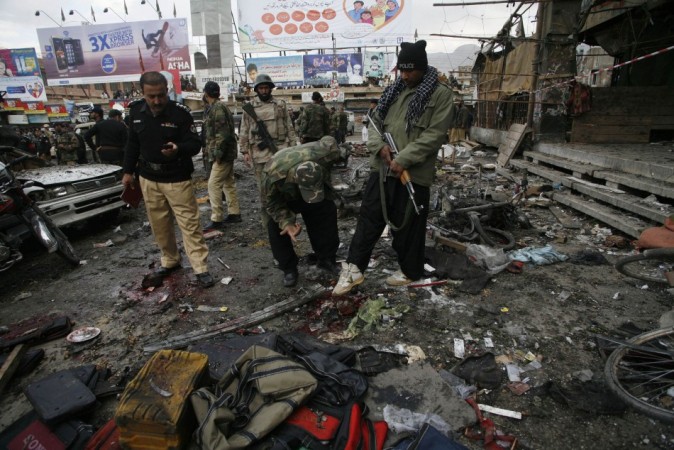 The Islamic State (ISIS) claimed responsibility for the Saturday evening massacre which killed at least 52 people and wounded over a hundred people at a Sufi shrine in southwestern Balochistan province.
A statement on the ISIS-affiliated Aamaq news agancy claimed "thirty five Shiites have been killed and 95 wounded."
According to reports, a suicide bomber, a 14-year-old boy, detonated himself at Shah Noorani Dargah in Pakistan's Balochistan province on Saturday causing many casualties. At least 150 people with serious injuries were rushed to nearby hospitals. Death toll is likely to go up. However, authorities said that it was not immediately clear if the blast was a suicide attack.
The shrine near Quetta is visited both by minority Shiites and Sunni Muslims, however Islamist militant groups like the Taliban and ISIS consider the practice followed by these people against Islam.
The home minister for Balochistan province, Sarfaraz Bugti, confirmed that the blast occurred when hundreds of people were present at the shrine of the Sufi saint Shah Bilal Noorani.
The blast came ahead of Pakistan Prime Minister Nawaz Sharif's scheduled visit to the province on Sunday. Sharif is scheduled to see off the first Chinese shipping consignment to Africa from Gwadar port. The Pak PM condemned the attack, and ordered local authorities to take appropriate action.
According to an official with the Edhi Foundations, Abdul Hakim Lasi, many people were wounded in a stampede after the blast. He also said that the blast occurred when worshippters were performing their devotional "dhamal" dance, the Associated Press reported.
The shrine is located high in the mountains of Balochistan, and although many people from surrounding areas and some from as far as Karachi — which is 200 km away — often go to the shrine, the roads are not too conducive for smooth and fast-paced travel, and there is a severe lack of ambulance services there.
The local government has also issued two emergency numbers for people to get information: +92 81 9202110 and +92 81 9201002.