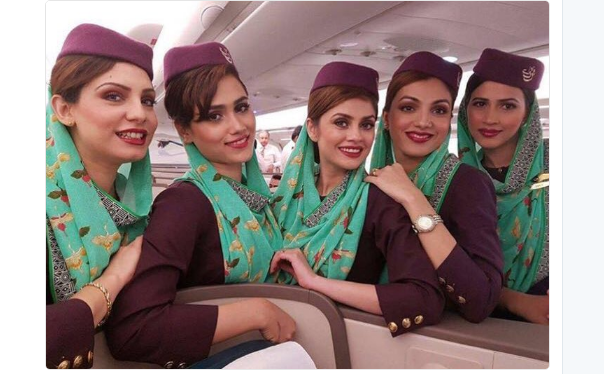 Passengers on Pakistan International Airlines (PIA) will be in for a pleasant surprise from Aug. 14 when air hostesses (flight stewardesses) sporting a new look will welcome them. The new look is part of an initiative by the national carrier's image makeover exercise.
The new uniform, designed by Nomi Ansari, will be worn by the air hostesses on the carrier's new service, PIA Premier, from Sunday, coinciding with the Islamic nation's independence day celebrations. PIA was in news in February when its staff went on strike protesting against the proposed privatisation of the carrier, which was founded in October 1946.
The uniform will be complemented by a scarf designed by Sania Maskatiya.
The new uniform is the culmination of a process that began in the form of a fashion show last year during which 16 designers presented their creations for PIA's flight crew uniforms.
"There are three color-ways; mushroom-green, navy and maroon. Different hues are going to be worn by the lower ground staff, the cabin crew and the pursers," the Dawn quoted Ansari as saying.
"The shirt has a straight princess-cut and it's paired with a tailored jacket that can be taken off. The straight pant that we showcased in the fashion show has been replaced by a narrow tailored shalwar. I have also devised the draping and pleating of the head-scarf so that it can be worn under the airhostess-cap, covering the head, and can also be wound round the neck," he added.
The three colours indicate the staff hierarchy at the PIA.
The information was shared on Twitter by Ansari and PIA spokesperson Danyal Gilani.
PIA goes glamorous: Absolutely loving the new look of PIA cabin crew by @nomiansari pic.twitter.com/pEAH6ipXtI

— NOMI ANSARI (@NOMIANSARI) August 10, 2016
#PIAPremier in 4 photos:
New livery,
Awesome IFE,
Elegant Business class
Better trained crew with new uniforms pic.twitter.com/tKJpzWeuLt

— Danyal Gilani (@Danyal_Gilani) August 10, 2016
It may be recalled that Indian national carrier Air India is also planning a new look for its approximately 4,000-strong cabin crew, with a distinct focus on khadi. The contemporary-cum-traditional look could see air hostesses wearing kurtis, churidars and trousers, besides the quintessential sari.