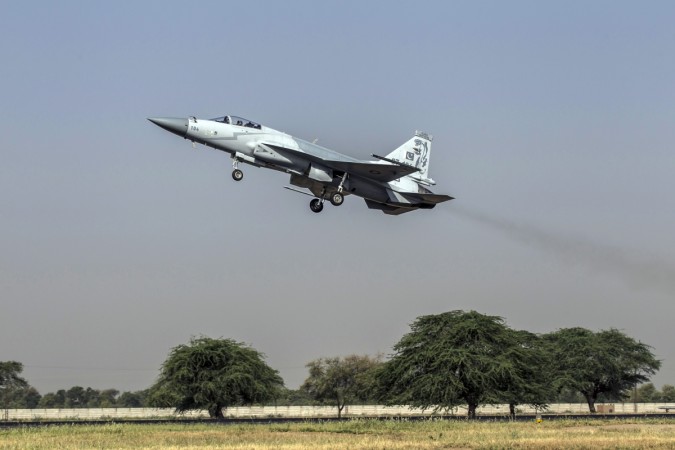 Even eight years after the production of CAC/PAC JF-17 Thunder JF-17 Thunder, the Pakistani fighter jet made possible due to Chinese collaboration, the multi-role combat jet has no export order yet. Pakistan on its part has been hard selling the aircraft to several countries and has recently pitched it to Kuwait.
Pakistan has offered JF-17 Thunder and PAC Super Mushshak trainer aircraft to Kuwait, pushing to sell its hardware during the recent visit to the country by Major General Abdullah Yaqoob Al-Fodri, Commander of Kuwait Air Force.
The JF-17 Thunder is Pakistan's first domestically developed and produced combat aircraft. The aircraft is the result of co-development with Chengdu Aircraft Corporation (CAC) of China. It is a lightweight, single-engine aircraft that uses the Russian Klimov RD-33 turbofan engine and is being replaced by Chinese developed Guizhou WS-13 engine. The aircraft is able to reach a top speed of Mach 1.6.
Though Pakistan and Kuwait have good military to military relations between them, with Kuwaiti pilots training in Pakistan, The Diplomat notes that the chances of Kuwait buying JF-17 Thunder are rather slim. Not to forget the fact that Kuwait has 28 Eurofighter Typhoons fighter jets, on order with Italy. Kuwait currently operates 32 F/A-18 Hornets for its multi-role fighter aircraft needs.
Nevertheless, the report notes that Pakistan might succeed in selling JF-17B two-seat trainer lead-in-fighter trainer, which is expected to make its first flight by end of this year and start its induction into Pakistani Air Force by April 2017.
Currently, Pakistan has 65 JF-17 fighter aircraft in its inventory. It produced 16 JF-17 Thunder aircraft in 2015 and looks to produce 24 fighter aircraft in 2016.
China produces 42 percent of the aircraft's airframe and the rest is done by Pakistan.
Previous reports had noted that Pakistan had approached Sri Lanka to buy JF-17 Thunder, but soon India offered it the LCA Tejas. Nigeria was also reportedly interested in acquiring JF-17 Thunder with IHS Jane's previously stating that it could be the first export customer.
Meanwhile, Pakistan might have success in selling PAC Super Mushshak, an advanced, upgraded version of Saab MFI-17 Supporter basic trainer. Pakistan has acquired sole manufacturing rights of the Supporter in 1981. Pakistan has been successful in selling it to countries like Iran, Iraq, Oman, Saudi Arabia.