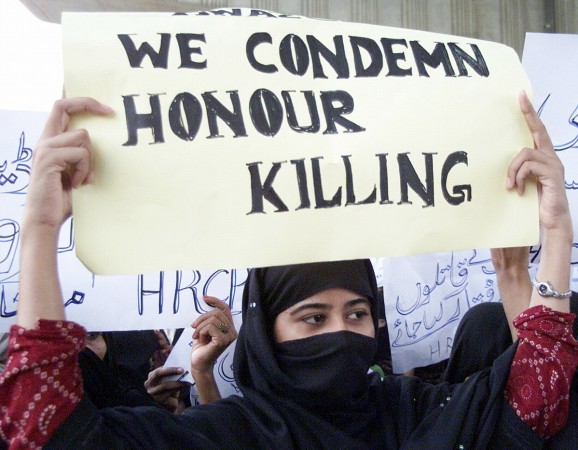 A 16-year-old girl in Pakistan was drugged and set on fire last week on the orders of a village council in Abbottabad, which meted the punishment to the teenager for helping a friend elope. The police reportedly arrested 14 people in connection with the gruesome murder that occurred in the Makol village.
The victim, a daughter of a labourer who works in Balochistan, was drugged and strangled to death, and then put inside a van that was set on fire on April 28, according to Dawn. The decision for the punishment was taken by a 15-member council, referred to locally as "jirga," who accused the girl of helping a couple from the village run away and get married. The girl's mother reportedly supported the decision of the council.
At least 13 members, along with the victim's mother, of the village council were arrested, the report said. The local police told the newspaper the case will be tried by an Anti-Terrorism Court to bring "exemplary punishment" to the accused.
Honour killing is a common practise in many parts of Pakistan, but it is usually the man and woman involved in a relationship or marriage who are targeted by their family members. According to a 2014 Washington Post report, more than 1,000 Pakistani women fall victim to honour killing every year.
In January this year, Pakistani Prime Minister Nawaz Sahrif vowed to eradicate the practice of honour killing in the country.
Pakistani filmmaker Sharmeen Obaid-Chinoyrecently won the Oscar for her documentary "A Girl in the River: The Price of Forgiveness" that dwells on the subject of honour killings in Pakistan.