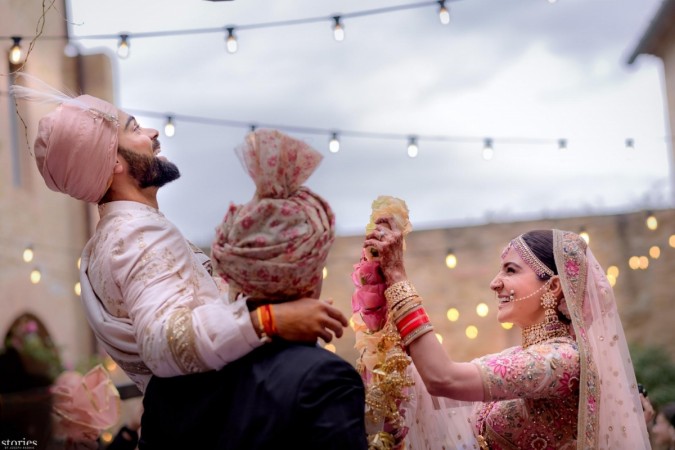 Pakistan fast bowler Mohammad Amir has congratulated Virat Kohli and Anushka Sharma, who tied the knot in Italy on December 11. The 25-year-old wished the Indian cricket captain a married life as successful as his cricket career.
Amir also added that he would pray the almighty to protect the celebrity couple from "evil eyes". Notably, the left-arm pace bowler had also wished the Indian captain on Twitter right after the latter made his wedding news official on the social media platform.
"I'm so happy for him. I also congratulated him and I wish him in his life's new innings," Amir, who is in Dubai, told Khaleej Times on the eve of inaugural T10 Cricket League (starting December 14).
He added: "Like he made a name for himself in cricket, I wish and pray to Allah that he is successful in his new life and Allah gives both of them a good life and all the happiness.
"I also pray Allah protects them from evil eyes. When a lot of eyes are on you, a lot of people's evil eyes could be on you. But I pray that Allah helps them on this new journey."
Praise from Kohli, response from Amir
Kohli and Amir share a good rapport on and off the field despite strained relations between the two countries. Notably, the Indian captain was one among the few who had backed the latter's return to international cricket after five-year-ban over spot-fixing.
Kohli had revealed earlier this year that Amir is one of the "top two or three bowlers" going around and that the Pakistan speedster is of the toughest bowlers he has ever faced in his career.
Also, the Delhi batsman had gifted his bat to Amir during last year's Asia Cup T20 in Kolkata.
"He [Amir] is in the top two or three bowlers in the world and the toughest bowlers I have played in my career. You have to be on your 'A' Game when you're facing him or he will strike. Outstanding! Very good bowler!" Kohli said during a chat with Bollywood star Aamir Khan in October.
In reply, Amir said he was floored by Kohli's praise and said he has become a better bowler by bowling to the Delhi dasher.
"You become a better bowler when you bowl well against a batsman like Kohli. It is a great gesture on his part to praise someone and I am floored by his praise of my bowling. The way he presented me with the bat in Kolkata is an evergreen memory for me," Amir had told Wisden India.