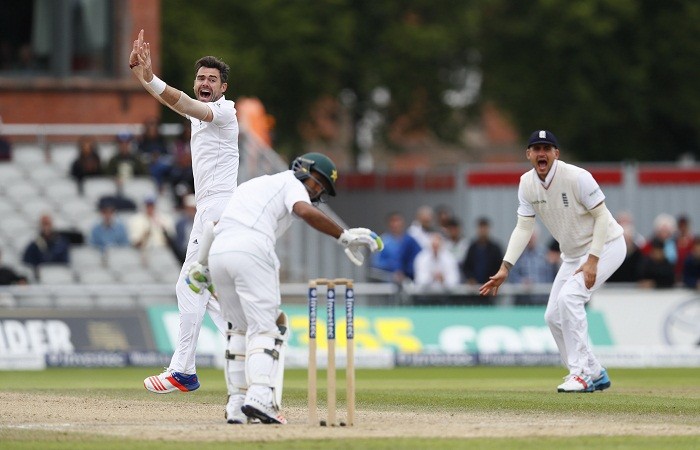 England were outplayed by Pakistan in the first Test, losing the match by 75 runs. But the Three Lions came back with a bang in the second Test in Manchester as they thrashed Misbah-Ul-Haq's team by 330 runs. The four-match series is evenly poised with one win each, but Pakistan skipper was disappointed with his team's batting effort in the second Test.
From the first day of the Test match, England had an upper hand, with captain Alastair Cook and Joe Root scoring huge runs. There was no looking back for the English team, as they compiled 589 runs in the first innings. Root played a big hand in achieving that mammoth total, scoring 254 runs. Cook scored 105 runs.
Pakistan were always playing catching up after allowing England to score a grand total in the first innings. The visitors' batsmen crumbled under pressure, and were all out for 198 runs, and only scored 234 runs in the second Test, which led to their embarrassing loss.
"But our batting was a big disappointment. It was a good pitch to bat on but we scored 198 and 234. You can't take that. On that pitch you can score 350 plus even if you are batting second or fourth. Some of the batsmen are getting in, but not converting their starts. We really need them to do that," ESPN Cricinfo quoted Misbah as saying.
The hero of the first Test, Yasir Shah, who had troubled England batsmen, could not spread his magic in the second match, picking up one wicket only. To be fair, England batsmen played the leggie better, which was one of the big reasons for the home team defeating Pakistan. Root and Cook played Shah brilliantly, and Misbah believes the right-hander was the difference in the second Test match.
"That was the difference from Lord's. At Lord's, Root was out cheaply in both innings and we got Cook out cheaply in the second innings. Then they struggled. Root and Cook are their main players. They really depend on them — the others are struggling — but the way Root played in this game... it was an amazing innings," Misbah said.
With the third Test match set to start on Aug. 3, Pakistan need to get back to their drawing board, and come up with various plans and strategies to defeat England.