Asif Ghafoor, the Major Director-General of the Inter-Services Public Relations of Pakistan, has stirred a massive controversy after he tweeted a picture of Balochistan Awami Party (BAP) leader Siraj Raisani standing on Indian flag.
In another picture, Raisani is seen sitting on a couch with an Indian flag wrapped around his shoe. The tweet, which was shared on the personal handle of Ghafoor, the spokesperson of the Pakistan Armed Forces, read: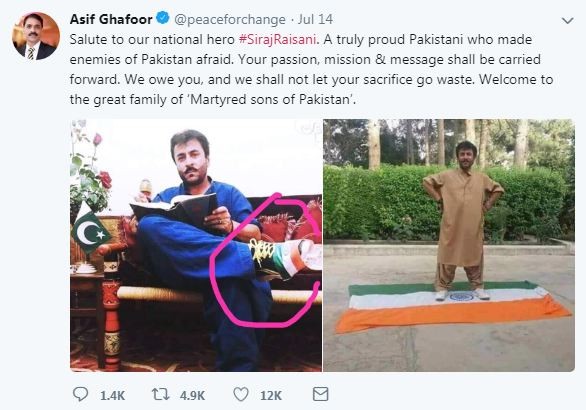 "Salute to our national hero #SirajRaisani. A truly proud Pakistani who made enemies of Pakistan afraid. Your passion, mission & message shall be carried forward. We owe you, and we shall not let your sacrifice go waste. Welcome to the great family of 'Martyred sons of Pakistan'."
Raisani was killed in the suicide bombing attack that took place in Mastung on Friday, July 13. Nearly 130 people were killed and 20 people were critically injured in the deadly attack.
Among those who paid their tribute to Raisani was Chief of Army Staff (COAS) General Qamar Javed who called him 'Soldier of Pakistan'.
Raisani was the candidate from PB-35 (Mastung) and his brother Nawab Aslam Raisani is also a political bigwig in Pakistan.
However, the controversial tweet by the DG ISPR Maj-Gen Asif Ghafoor sparked a massive row soon after it was shared. He was panned by fellow Pakistanis who felt it was not the right thing to do.
"This is not good.. I am a Pakistani n oppose this.. flag of every country means mother to them.. #Peace between India Pakistan not bcz I m following Indian actress n actor not even for love.. by love and respect to serve humanity.. what you shared is humiliating for gernal public [sic]", a Twitter user said.
Here are several reactions from Twitter users ---Indians and Pakistani-- who slammed DG ISPR Maj-Gen Asif Ghafoor for his tweet.