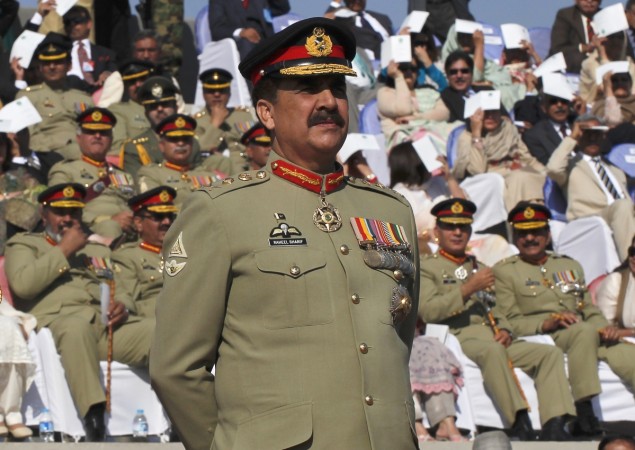 Pakistan army chief Raheel Sharif on Thursday confirmed death sentences to 12 "hardcore terrorists," most of them belonging to Tehreek-e-Taliban Pakistan, for various offences including killing of civilians, security forces and destruction of schools and hospitals.
This came even as General Sharif joined the country's civilian leadership on Wednesday in criticising India's handling of the unrest in Kashmir following the killing of Hizbul Mujahideen militant Burhan Wani, described as terrorist by Indian security forces.
India has often accused Kashmiri militants of charges similar to the ones for which Pakistan has convicted many "hardcore terrorists" through military courts, the latest one being the 12 convicts.
In a statement issued on Thursday, the Inter Services Public Relations (ISPR) said all of them were tried and convicted in military courts.
"Today Chief of Army Staff confirmed death sentences awarded to another 12 hardcore terrorists, who were involved in committing heinous offences related to terrorism, including killing of civilians, attacking Armed Forces of Pakistan and Law Enforcement Agencies, destruction of schools and communication infrastructure," the statement said.
Here is the list of the "hardcore terrorists" and their offences:
Muhammad Qayyum Bacha, a member of the Tehreek-e-Taliban Pakistan, was charged with involvement in killing officers and soldiers, besides blowing up a Girls Primary School and a Basic Health Unit with explosives. The ISPR said he confessed to his offences before a trial court.
Muhammad Asif, Shahadat Hussain and and Yasin were active members of the Lashkar-e-Jhangvi, and were involved in killing of civilians and attacking law enforcement agencies. Besides, they were also charged with possession of fire arms and explosives.
Muhammad Tayyab, a Tehreek-e-Taliban Pakistan member, was accused of attacking armed forces of Pakistan resulting in the death of soldiers and civilians.
Said Akbar, Muhammd Ayaz, Barkat Ali, Aziz Ur Rehman, Hussan Dar, Ishaq and Behram Sher — all described as members of the Tehreek-e-Taliban Pakistan — were sentenced to death for offences that included killing civilians, security forces and possession of explosives. Some of them were also accused of destroying schools.