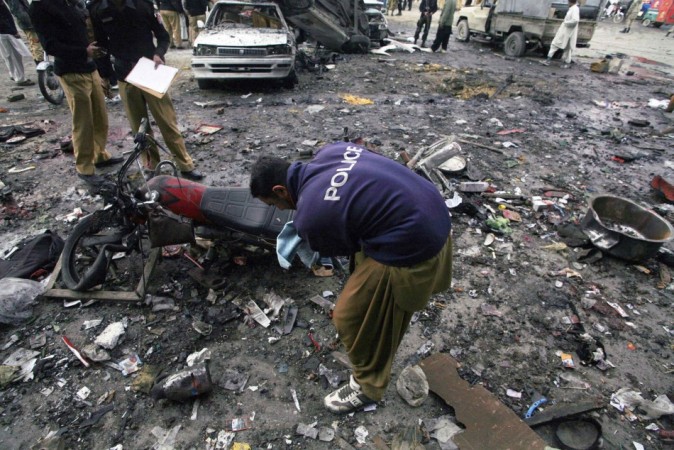 Nearly 70 people have been killed and over 100 others injured on Monday after a bomb exploded at the main gate of Civil Hospital Quetta in Balochistan province of Pakistan. Gunfire has also been reported.
No militant group has claimed responsibility for the attack yet but the Pakistani police have confirmed that the attack was carried out by a suicide bomber. Senior police officer Zahoor Ahmed Afridi was quoted by Associated Press as saying that bomb disposal experts found remains of the attacker at the scene.
The area was cordoned off after frontier cops and the police arrived at the scene. Emergency has been declared in all hospitals in Quetta.
The blast took place after advocate Bilal Anwar Kasi, a former president of Balochistan Bar Association, was shot dead by unidentified attackers in Quetta earlier in the day, the Express Tribune reported. Police and rescue officials said that the blast happened as soon as lawyers brought Kasi to the hospital.
The daily quoted police officials as saying that unknown assailants had fired at Kasi's car near Mengal Chowk on Manno Jan Road in Quetta while he was on his way to court. The advocate was then shifted to the Civil Hospital where he succumbed to his injuries.
Several lawyers have also been injured while aerial firing could be heard near the emergency ward of the hospital. Among the dead is Shehzad Ahmed, a journalist from Aaj TV.
An investigation is under way, Anwalullah Kakar, the government spokesman in southwestern Baluchistan province, was quoted by the AP as saying.
This is not the first time such an attack has taken place in the town. Barrister Amanullah Achakzai, the principal of University Law College, was shot dead in June by unidentified armed men in Quetta's Spinny Road area, following which he was taken to Civil Hospital, where he died.
Condemning the blast as "an attack on justice", Ali Zafar, the top leader of Pakistan's main lawyers' association, declared that lawyers across the country would observe three days of mourning and will also stay away from court appointments to express solidarity with those who died in the bomb explosion.