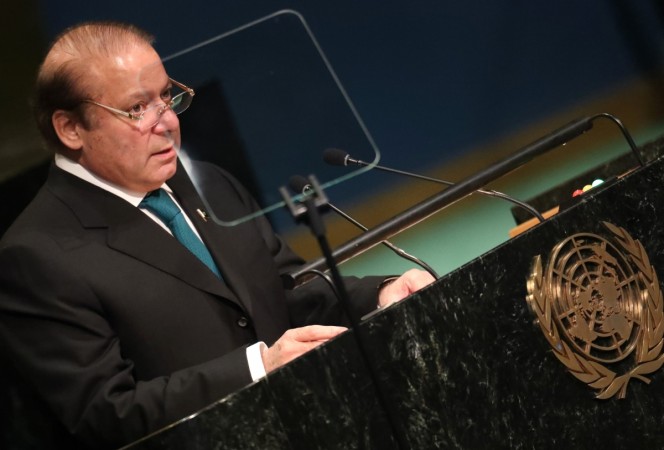 Pakistan Prime Minister Nawaz Sharif on Wednesday, September 21, raised the Pakistan issue in his address to the United Nations General Assembly, and also glorified self-styled Hizbul Mujahideen commander Burhan Wani, drawing immediate condemnation from India. Sharif, however, did not make any mention of the Uri terror attack.
Sharif, while on the topic of terrorism, said: "My country has been the principal victim of terrorism, including that supported, sponsored and financed from abroad. We will not allow externally sponsored terrorism and efforts of destabilisation to cause turbulence in Pakistan." This was in line with regular allegations from Pakistan that India sponsors terrorists who attack the neighbouring country.
He went on to add: "Our comprehensive strategy of law enforcement and targeted military operations has produced remarkable results and enabled Pakistan to turn the tide against terrorists." This claim rings hollow in light of known terrorists like Hafiz Saeed and Maulana Masood Azhar roaming freely in Pakistan.
Sharif also said: "Pakistan wants peace with India. We have gone the extra mile to achieve this." Minister of State for External Affairs MJ Akbar would later tell journalists in the United States: "We have not yet seen the first mile. Where is the question of extra mile?" His rhetorical question stems from Pakistan's reticence in prosecuting those on its soil who India accuses of being involved in the 26/11 Mumbai terror attacks, including Hafiz Saeed.
In his speech, the Pakistan PM said on the Kashmir issue: "Peace between India and Pakistan cannot be finally achieved without resolution of the Kashmir dispute." However, he proceeded to add: "Pakistan will share a dossier with UN Secretary General on Indian brutalities in Kashmir." This seemed like a direct reaction to Prime Minister Narendra Modi speaking up on the Balochistan issue.
Sharif said about the absence of dialogues between the two countries: "India posed unacceptable pre-conditions to engage in dialogue. Talks are no favour to Pakistan. They are in the interest of both countries." Ministry of External Affairs spokesperson later replied to this on Twitter: "PM Sharif at #UNGA says India poses unacceptable conditions to dialogue. India's only condition is an end to terrorism. This not acceptable? [sic]"
Sharif, borrowing a term for uprising from Palestine, also said: "Burhan Wani, the young leader murdered by Indian forces, has emerged as a symbol of the latest Kashmiri 'Intifada'." Swarup replied to this on Twitter: "Pak PM Sharif at #UNGA glorifies Hizbul terrorist Burhan Wani in UN's highest forum. Shows continued Pak attachment to terrorism. [sic]"
MJ Akbar has a stronger take: "Burhan Wani is a self-declared commander of the Hizbul Mujahideen. We heard today by the Pakistani prime minister the glorification of terror. It was self-incrimination."