The run-up to the 2018 general elections in Pakistan has been strenuous on the nation's law and order situation, to say the least. Punctuated by bomb blasts targeting politicos and unsuspecting voters, the stage set for a political party to take charge is indeed a gory one.
The three main players in the fight for power in the Islam-dominated country were Imran Khan of Pakistan Tehreek-e-Insaf (PTI). The only real competitor for the cricketer-turned-politician was Shehbaz Sharif of Pakistan Muslim League (Nawaz). The third candidate, 29-year-old Bilawal Bhutto Zardari, son of former president Asif Ali Zardari and ex-Prime Minister Benazir Bhutto, the youngest of the lot and least likely of the three to win the 2018 general elections in Pakistan.
A single party would need a minimum of 137 directly elected seats to form a government on its own.
Live Updates below:
The PTI leader alleged human rights violation by Indian forces in Kashmir. He spoke about improving ties with India along trade lines and said that it was unfortunate that Kashmir was at the core of the dispute between the two countries.
Addressing the Kashmir issue, Imran Khan said that talks can be held to resolve the dispute, and that military would of little help in the matter.
The former cricketer set to become the PM said that his government will work to improve relations between India and Pakistan.
Khan slammed Indian media, saying they turned him into a "Bollywood villain" during election coverage.
The PTI chief hailed China for its many policies, including their measures to eradicate poverty. Imran Khan reiterated that his party will work for the downtrodden in Pakistan.
Calling the 2018 general elections historic, Imran Khan, in his first media address post the polls said that he entered politics to fulfill Jinnah's dream.
Imran Khan, all set to become the new chief minister of Pakistan, addresses media ahead of the results.
Setting a record in the history of elections in Pakistan, Imran Khan is the only candidate to contest five seats and win all of them
Pakistan's retired army general and former president Pervez Musharraf, speaking to CNN News 18, said that he is happy about the election results so far adding that the people have elected a good leader.
If PTI fails to secure the required 137 seats, the party might consider forming a coalition with one of the smaller parties or independent candidates.
(Read here: Pakistan general elections 2018: Coalition government a possibility?)
Reports have said that 48 percent of the votes have been counted.
Here are the latest unofficial trends as per ARY news:
| | | | | | | | |
| --- | --- | --- | --- | --- | --- | --- | --- |
| Parties | PTI | PML-N | PPP | IND | MMA | MQM | GDA |
| Total | 119 | 60 | 40 | 15 | 10 | 8 | 4 |
Imran Khan's first wife Jemima Goldsmith has taken to Twitter to congratulate him even before the election results were declared.
Visuals of the main political parties campaigning before the elections
PML-N
PTI
PPP
MQM
Allah-o-Akbar Tehreek
According to latest unofficial election trends, PTI is leading in 111 constituencies, followed by PML-N is 68 seats and PPP in 38.
It's being said that if Imran Khan becomes the Pakistan PM it will be bad news for India.
According to the CEC of Pakistan, Results Transmission System, which collapsed is being used for the first time.
"I am aware that the delay in announcement of results has caused some annoyance. But it [Results Transmission System (RTS)] was a new system and we were implementing it for the first time. Therefore, there was some delay," Dawn quoted CEC as saying.
Even as parties like PML-N allege that the polls were rigged, the ECP has rubbished the allegations.
"Form 45 was not given to our agents, results were stopped and votes were counted in the absence of our poll agents. This is both unbearable and unacceptable," Shehbaz Sharif claimed. Reports have said that political parties have termed the delay in results as a "conspiracy"
However, the ECP cleared the air about the alleged conspiracy and said that the delay was due to technical issues.
"There's no conspiracy, nor any pressure in delay of the results. The delay is being caused because the result transmission system has collapsed," Babar Yaqoob, secretary of the Election Commission of Pakistan, told the media on Thursday.
Meanwhile, staff members of the Election Commission of Pakistan (ECP), who were stationed at polling stations in Lahore and voters, who cast their choices from these booths, have complained about inadequate arrangements made for them.
PML-n president Shehbaz Sharif on Thursday (July 26) rejected the Pakistan General Elections results 2018. He alleged widespread rigging and irregularities in the issuance of results.
"I think it was completely predictable. For the last year also we have been hearing that the military wants a change, they want to get rid of Nawaz Sharif & his party and that they see Imran Khan as the most pliable potential," Tharoor added.


Imran is largest single party but without majority by himself. He'll depend on independents & small parties' support, almost certainly MMA - which will follow military instructions which means if he does things military considers out of line, support can be pulled: Shashi Tharoor pic.twitter.com/oKACxQ13rE

— ANI (@ANI) July 26, 2018

Congress leader Shashi Tharoor, says that Imran Khan has enough charisma to change Pakistan.
"Imran Khan will have to take the support of Independents, who will listen only to the military. He has enough charisma to change directions for Pakistan," News 18 quoted Tharroor as saying.
Reports have said that Imran PTI has won 121 seats, PML-N has won 58 constituencies and PPP has won in 35 seats.
According to an unofficial results by The Express Tribune, PPP won 13 provincial seats in Sindh.

The PTI's chief spokesperson, Naeemul Haque said that the party president will address Pakistan at 2 pm on Thursday (July 26).
Imran Khan will "address the nation in celebration and recognition of the massive support received from the people of Pakistan in the 2018 elections which was a contest between the forces of good and evil," Dawn quoted Haque as saying.
According to ARY News' unofficial results PTI chief Imran Khan won in NA-95 (Mianwali) with 1,27,530 votes. He defeated PML-N's Abdullah Khan by over 77,000 votes.
The ECP is being condemned for handing out results on plain paper in Khi and Hyderabad. The officials were supposed to provide the results on Form 45.
According to unofficial results as reported by The Express Tribune, Imran Khan's PTI, Shehbaz Sharif's PML-N and ANP have won a seat each in Balochistan.
As per unofficial trends.PPP's Bilawal Bhutto Zardari is currently leading in NA-200 Larkana against MMA's Rashid Soomro.
The front page of Dawn.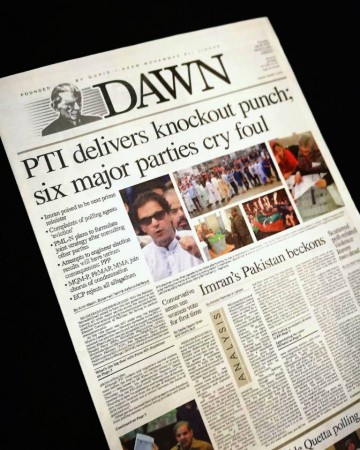 PTI is confident of winning the Pakistan polls.

The official website of the ECP is unreachable.
Here are the latest unofficial trends as per ARY news:


| | | | | | | | |
| --- | --- | --- | --- | --- | --- | --- | --- |
| Parties | PTI | PML-N | PPP | IND | MMA | MQM | GDA |
| Total | 114 | 63 | 41 | 20 | 9 | 5 | 4 |
PTI and PML-N has taken lead in one and two seats respectively. Bilawal Bhutto's PPP is trailing at third place with 43 seats.
As of 6:15 in the morning, PTI is leading in 111 seats followed by PML-N leading in 63 seats. PPP is trailing in 38 constituencies, said the unofficial trends on ARY News.
ECP secretary Babar Yaqoob said that aid the Result Transmission Service failed after results of 25,000 out of 85,000 polling stations were uploaded, reported Firstpost.


Result Transmission Service stopped working under pressure & has delayed results. Presiding officers have been asked to meet their returning officers, along with army officers assigned to their voting booths, with the results: Babar Yaqoob, Secretary ECP #PakistanElection2018 pic.twitter.com/xrE3rUO0mr

— ANI (@ANI) July 25, 2018
Imran Khan's PTI is leading in 110 seats as per unofficial trends on ARY news.
After PML-N and a few other parties claimed that the elections have been rigged by PTI, the ECP rubbished the allegations.
Local news reports indicate Bilawal Bhutto of Pakistan People's Party leading in Lyari seat. PPP trails in the third position with 26 seats while Imran Khan's PTI marches ahead with 82 seats. Sharif's party stuck in between with 41 seats.
PTI continues to lead in Lodhran 2 and Rawalpindi while PML(N) stays ahead in Peshawar lll.
Imran Khan leading is Islamabad ll constituency against PML(N) candidate, former prime minister Shahid Khaqan Abbasi.
Early trends suggest Imran Khan's PTI leading in two seats, Shehbaz Sharif's PML(N) in three.
ISPR Director General Major General Asif Ghafoor thanks people for 'unflinching support' for the Pakistan armed forces and for rejecting 'malicious propaganda' and supporting the army throughout the polls.
Tehreek-e-Taliban threatens common man against going near polling booths, saying voters will be responsible for any damage that's caused to property or person.
Pakistan Electronic Media Regulatory Authority (Pemra) has taken notice of several news channels and has ordered not to announce election results before 7 PM as it is against its code of conduct.
Pakistan Tehreek-e-Insaf(PTI) supporters have already started celebrating their victory in Islamabad, even before the results are announced.
Counting of votes is underway.
Polling comes to an end. The gates of all polling booths in Pakistan have been closed.
Polling stations to be closed in 15 minutes. No voter will be allowed to vote after the deadline, however, the voters present inside the polling station can still cast their votes.
The Election Commission of Pakistan has decided against extending the polling time by an hour. "Polling time was already extended by one hour," ECP was quoted as saying by Geo TV.
Pakistan Muslim League (Nawaz) leader Mushahid Hussain Sayed had sought an hour delay on polling deadline.
The tussle between Imran Khan and Shehbaz Sharif is being closely followed by India. In case of the latter, brother of former Prime Minister Nawaz Sharif has promised Pakistan Kashmir, if elected to power. But PTI's Imran Khan, who is favoured to win, is a bigger concern for India since the 65-year-old leader enjoys a strong military backing.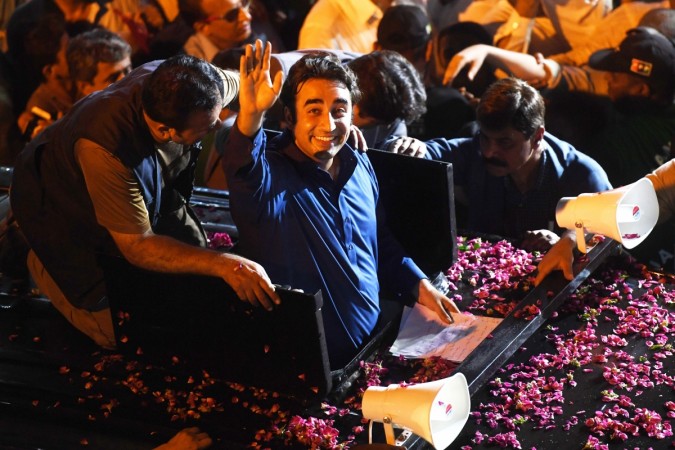 It can be noted that Pakistan, a young nation of just over 60 years, sees a majority of its history under military rule - it has not only been disruptive for the people of the country but for India as well. Imran Khan coming to power would blur the lines between Pakistan's political and defence forces, which is expected to pose a larger threat at the Indian border.
On a more positive note for the neighbouring country, the general elections this year would shift the power from a caretaker prime minister and establish a civilian rule in the country through a democratic transfer of power.
Here, we bring you the live updates as the counting of the votes begins at 6 pm. Stay tuned.