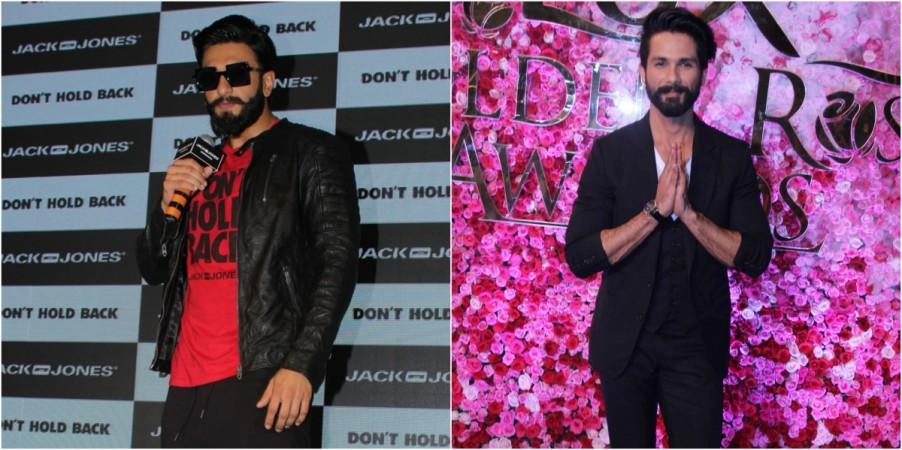 For the longest time, Shahid Kapoor and Ranveer Singh were believed to have been in a cold feud of sorts. Even though both the stars have admitted to sharing a healthy rapport, rumours continue to do the rounds.
The latest on the controversy, sources have claimed, is that the hostility between the leading men of Padmavati is untrue and is mostly cooked up. Kapoor and Singh have met up and read scripts together, an insider informed SKJ Bollywood News.
"There is absolutely no tension about their roles. When Shahid came on board he knew exactly what his role was. In fact, Ranveer who was signed first suggested Shahid's name for the other male lead as he(rightly) felt the Deepika–Shahid pair was fresh untried and very appealing," the source further elaborated.
The interesting bit is, director Sanjay Leela Bhansali's actors have always been rumoured to be in a tiff. In Hum Dil De Chuke Sanam, Salman Khan and Ajay Devgn had their reservations about with the climax sequence.
Madhuri Dixit Nene and Aishwarya Rai Bachchan too weren't 4 am friends, but were okay in each other's company on the sets of Devdas, unlike what was reported. Deepika Padukone and Priyanka Chopra, who have drifted apart and apparently aren't great friends any longer, got along like a house on fire.
"I had to keep reminding them that they were playing rivals in love. During shots, they were constantly bonding, giggling and going on imaginary picnics together. Their lack of rivalry was disturbing," Bhansali told the website.
Padukone has begun shooting for the film while Singh is wrapping up crucial portions before he goes on a promotional tour for Befikre across Indian and foreign cities. Also, the young actor along with co-star Vaani Kapoor will jet off to Paris for a premiere.