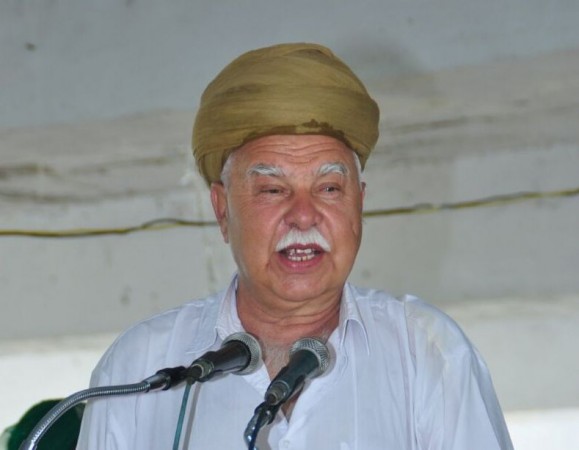 A day after filmmaker Sanjay Leela Bhansali was allegedly roughed up by members of the Shree Rajput Karni Sena on the sets of his upcoming film Padmavati, and just an hour before it was announced that he had stopped the film's shooting in Jaipur, Karni Sena chief Lonkendra Singh Kalvi talked to International Business Times, India, on several aspects of the incident, and the Karni Sena's continued protests.
Also read: Sanjay Leela Bhansali attacked on Padmavati sets; slapped, hair pulled by protesters in Rajasthan [VIDEO]
His version of what happened
While most reports say that Bhansali was slapped by Karni Sena members, Kalvi has an altogether different version of events — one where 15-20 Karni Sena members were threatened by close to 200 bouncers. "Then shots were fired in the air by them," he told IBTimes India.
He also claimed that the film crew had taken up 70 percent of the area at the shooting location, which was also a tourist spot, and this angered the tourists, who were part of the mob that created ruckus at the venue. "When they shots were fired, they all turned against them [the film crew]," he said.
'Three demands'
So, what was the protest all about? Kalvi said he — a 28th or 30th-generation descendant of Padmavati — and the Karni Sena had objections to certain portions of the film, and had some demands. The first of these was that the makers of Padmavati should do away with a purported dream sequence where Alauddin Khilji — played by Ranveer Singh — fantasises about romancing queen Padmavati — played by Deepika Padukone — in the film slated to release on November 17, 2017.
He told IBTimes India: "Ranveer Singh and Deepika Padukone may have great personal rapport, but they should not be allowed to bring it on screen in this manner [of Khilji romancing Padmavati, which he feels distorts history]." He added: "And third, until there is a clarification on the issue, there will be no shooting of the film in Rajasthan."
Wither, dream sequence?
However, Bhansali Productions — SLB's own production house under whose aegis the film is being made — has clarified multiple times that there is neither a love scene nor a dream sequence in the film. They did that more than once on Twitter as well, since the controversy broke.
Even Ranveer Singh took to Twitter to clarify that there was no intention to hurt anyone with the film. He wrote: "As a team, we are making Padmavati keeping in mind the sensitivities and emotions of the people of Rajasthan and the Rajput community." He added: "What's happened is very unfortunate. We hope the people of Rajasthan will understand and empathise with our intentions and give us their support."
German dare for Bhansali?
Earlier on Saturday, Kalvi also asked if Bhansali had the guts to go to Germany and make a film against Adolf Hitler. Pointed out by IBTimes India that films like Quentin Tarantino's Inglourious Basterds exist, and that it depicted an alternate version of history where Hitler is assassinated, Kalvi said: "They may have accepted it there, but similar transgressions [any changing of history] will not be tolerated by us."