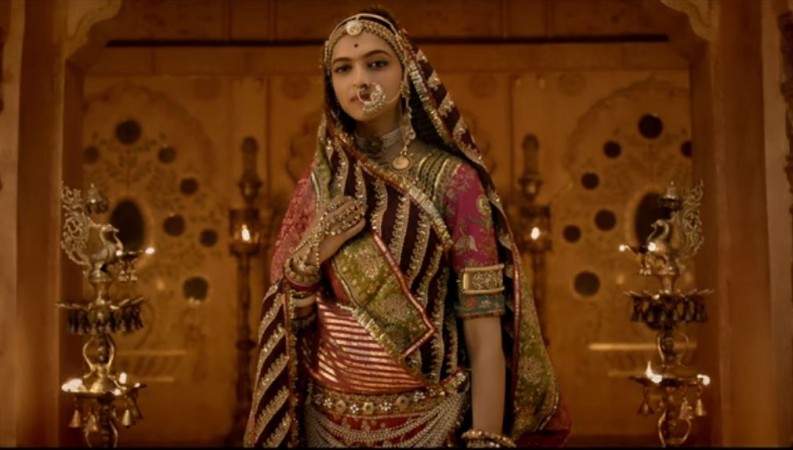 Deepika Padukone-starrer Padmavati has been facing a big threat from some activist groups in Rajasthan, who are opposing its release, claiming that it does not depict historical facts.
Padmavati is an epic period drama based on the legend of Hindu Rajput queen Padmini. And it seems to have raised the hackles of several people. For example, people have attacked the film unit and vandalised its sets a couple of times claiming that it distorts historical facts.
Padmavati has been creating ripples over this controversy ever since it went on the floors. With the movie nearing its release date, the protests against the film have only intensified, with some activist groups threatening to stall its release in the state.
The members of the Sri Rajput Karni Sena have reportedly sent out memoranda to theatres in Rajasthan asking them not to screen Padmavati. They have even warned theatre-owners that they cannot be held responsible for any damage to their cinema halls if the film is screened.
When the members of the Sri Rajput Karni Sena vandalised the sets of Padmavati and slapped Sanjay Leela Bhansali, the makers had reportedly promised to screen the film for them before its release. Now, the activists are asking the producers to keep their promise.
"We are demanding that Bhansali's team screen the movie for historians and intellectuals before releasing it, as was promised by them a few months ago. We are apprehensive that historical facts have been distorted in the movie," Vishavbandhu Rathore, Rajasthan general secretary of Sri Rajput Karni Sena, told IANS.
The Sri Rajput Karni Sena, which had called for a Chittorgarh bandh on November 3, has now planned a big rally in Gandhinagar in Gujarat on November 12 against Padmavati.
Several politicians have also raised their voice against the alleged distortion of historical facts in Padmavati.
Chintamani Malviya, the BJP MP from Ujjain, vented his anger at Sanjay Leela Bhansali. "People like Bhansali do not understand any other language. People like him only understand the language of shoes. This country will not disrespect Rani Padmavati. We will not tolerate any distortion of our history," he wrote on Facebook on Monday.
BJP leader Uma Bharti, currently Union Minister for Drinking Water and Sanitation, recently wrote an open letter in which she stated no historical film can distort the facts.
BJP MLA Diya Kumari, of the erstwhile royal family of Jaipur, tweeted on Tuesday: "I will not allow any distortion of the valiant history of Rajasthan & Sacrifice of its people in fighting barbarians by movie #Padmavati. Rani #Padmavati is symbol of Rajasthan's bravery & honour, any attempt to lessen her & women who sacrificed their lives will not be allowed. [sic]"
The controversy surrounding Padmavati has halted its pre-release business, with no film distributors coming forward to buy its theatrical rights for Rajasthan, which has around 300 screens.
If the movie is not allowed to release in this area, the makers are likely to suffer a loss of around Rs 5 crore.