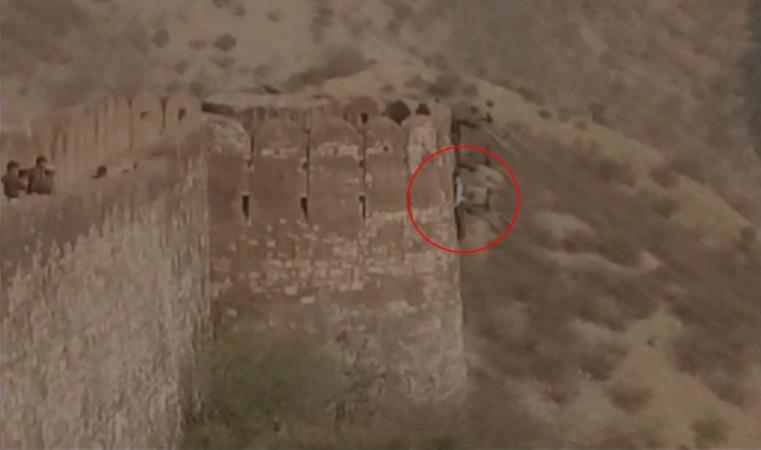 The ongoing protests against Sanjay Leela Bhansali's upcoming magnum opus Padmavati has taken a deadly turn when on Friday (November 24) a body was found hanging at Nahargarh Fort in Jaipur, Rajasthan with a threat note scribbled on the rocks.
The threat note on one of the rocks read, "Padmavati ka virodh (protest against Padmavati)" while another read "Hum sirf putle nahi jalate, latkate hai (We don't just burn effigies of people, we hang them)."
The hanging of the body comes a day after the British Board of Film Certification (BBFC) cleared Bhansali's film for December 1 release in the UK. Meanwhile, CBFC here is yet to certify the film due to which the makers of Padmavati have been forced to postpone the release date until further notice.
The Police is yet to determine whether it was a suicide or a murder. On November 19, BJP leader Suraj Pal Amu doubled the bounty on Bhansali and Deepika's head to Rs 10 crores.
According to a report in India Today, the police have identified the body of a man named Chetan Kumar, a 23-year-old resident of Jaipur.
Meanwhile, Shri Rajput Karni Sena's chief, Lokendra Singh Kalvi has denied any involvement in the case and condemned the incident. The outfit also said that they will withdraw their protest if the descendants of the royal Chittor family give their approval for screening the film in theatres.
Padmavati has been embroiled in controversy ever since its announcement for allegedly hurting the sentiments of the Rajput community over the distortion of historical facts. The Rajput Karni Sena and several politicians have strongly opposed the movie for allegedly having a dream sequence between Rani Padmini and Alauddin Khilji despite constant denials from Bhansali over the inclusion of any such scene.
While the Karni Sena has demanded to observe "Bharat Bandh" on December 1 to protest against the release, the hanging of the dead body over the historic Nahargarh Fort has set a horrifying precedent over the ongoing issue.
Film associations and many celebrities have come out in support of the film. Even the Supreme Court has rejected pleas to remove objectional scenes from Padmavati and stall the release of the film.
Padmavati stars Deepika Padukone as Rani Padmini alongside Shahid Kapoor who plays the role of Raja Rawal Ratan Singh. Ranveer Singh plays the cruel Sultan Alauddin Khilji who is obsessed with the queen's beauty.