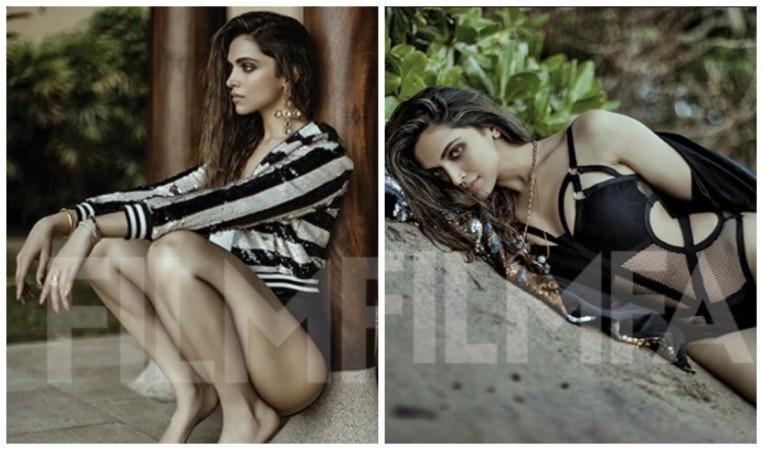 Deepika Padukone has been in news for the past couple of days for multiple reasons. While her upcoming movie Padmavati has been facing the heat from Rajput groups, she stunned everyone with her super hot photoshoot with Filmfare.
Deepika has recently appeared on the cover of Filmfare. The gorgeous diva looked stunning in bikini, and her fans cannot get over her hotness. However, as expected DP's photos received much flak as well, as many started abusing her.
Several social media users made nasty comments on her photos and started moral policing that she she should not be doing such photoshoots when she will be seen as Rani Padmavati next.
They said she doesn't deserve the titular character of Padmavati and trolled her. Also, some netizens felt this photoshoot will further fuel the controversy.
While many praised Deepika for her sizzling pictures, some passed cheap comments. However, one picture from the photoshoot that got much attention is where Deepika is seen flaunting her toned thighs. They said the pose is similar to that of someone sitting on a "potty". Yes, you read that right. Some "creative" minds even came up with photoshopping skills, adding "lota" in the picture. They called it traditional in a sarcastic way since it is 'Indian style'.
Check below the photos and comments made on them: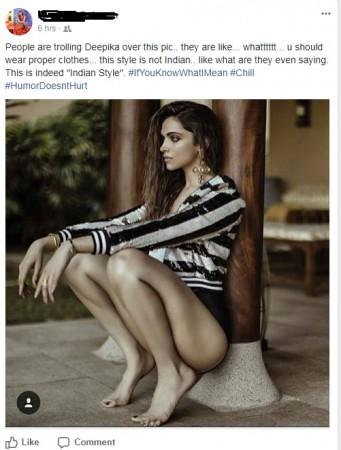 Wats happening to these successful heroines ,y they do shameless foto shoot when they r v well recognized all over the world

— Khansamina81 (@khansamina81) November 22, 2017
Yes, it's stunning.
Specifically the second one.
A soft Porn photo shoot.

— Chhii Goo-Wala (@Duggal_Sab) November 22, 2017
Padmavti in bikni. Lovely. Karni Sena will get new fodder...

— Bollyprem (@KadwaSaach) November 22, 2017
Stupid to do photo shoot like this at this point of time .... #padmavati this will just add fuel to the fire ... any ways Best of luck waiting for #Padmavati

— Just joy (@joymac08) November 22, 2017
N do u think .. Rajputs wil accept her as rani padmavati ...or any sensible person .. Hillarious ...

— Unique views (@Arun_mohanty20) November 22, 2017
Meanwhile, Padmavati's release date has been delayed to an indefinite period owing to issues with censor board issues as well as the protests from the Rajput community. The Sanjay Leela Bhansali directorial is in trouble for allegedly distorting historical facts, and showing the central character of the queen in bad light.