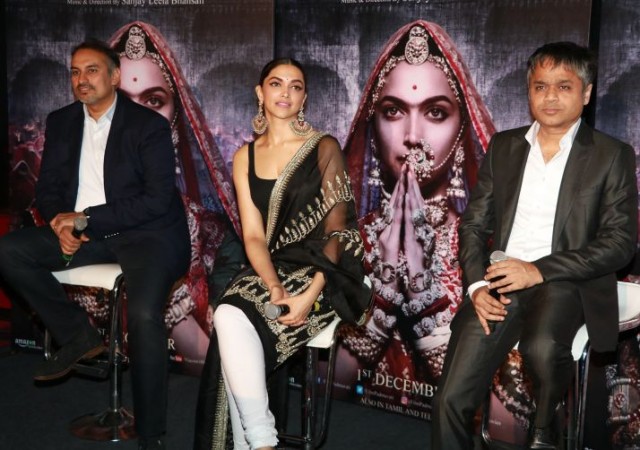 Sources close to Bhansali Productions have slammed the reports that Deepika Padukone chose not to inform her co-stars Ranveer Singh and Shahid Kapoor about the launch of Padmavati 3D trailer.
Sanjay Leela Bhansali is an ace filmmaker, who most of the stars dream to work with and also respect him immensely. His banner is one of the most prestigious Bollywood production houses and even the superstars follow what they are told to do by the film. It was the director, who decided that Deepika Padukone should attend the 3D trailer launch event of Padmavati.
"Since she was anyway with them, they decided to have her at the event too so she stopped shooting, attended the event and then moved back to shoot post it. Deepika merely followed what she was asked to do by her director and producers," said a source close to the Bhansali Productions.
It was reported earlier that the producer had initially planned to release the 3D trailer of Padmavati on their own, as its lead actors were busy with its shooting. Deepika Padukone's name was not there on the guest list. Many people in the media were surprised when they were informed about her presence minutes before the event. This development led to several speculations about the actress.
What had fueled the rumours the most was Ranveer Singh's series of cryptic tweets, which made everyone feel that the actor was angry with Deepika Padukone and the producers of Padmavati.
In a series of tweets, Ranveer Singh wrote: "Saw #Padmavati 3D trailer last night! Holy smokes! It was jaw-dropping! Also 1st time I'm seeing myself in 3D so..! Hahaa! Pretty badass. Also stung by a Bee 4 the 1st time earlier today. Thought Id post a picture but then I was like I dont wanna make that Bee famoussss haha. In other firsts, it's also the first day of the rest of my Life. Ok, now I'm done (sic)."
Watch Padmavati official trailer here