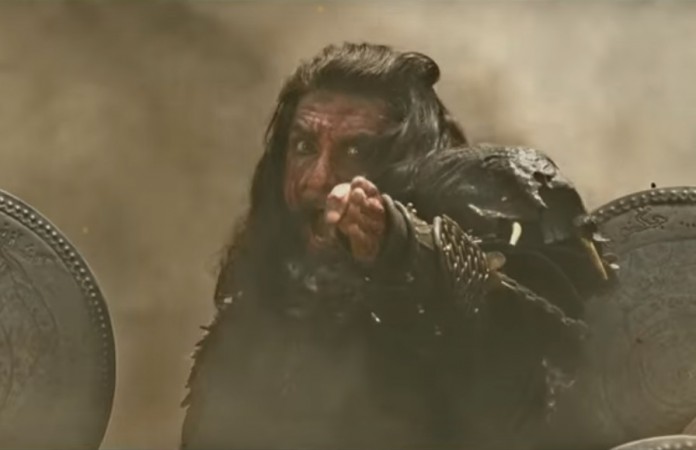 Padmaavat is Sanjay Leela Bhansali's epic film that managed to mesmerise moviegoers with its breathtaking visuals, wide-angle shots in the battlefield, larger-than-life sets and costumes that look quite authentic and realistic and brilliant performances by Ranveer Singh, Shahid Kapoor and Deepika Padukone.
After watching the film, you will find that Shahid Kapoor's role of Maharawal Ratan Singh is nowhere downplayed, as it was reported earlier. It wouldn't be wrong to say that it was Shahid Kapoor's best performances till date and Deepika was elegance personified.
But there was one man who stood out with his sheer acting prowess. It could be none other than the menacing, cruel, heartless, power-hungry, treacherous mad king Alauddin Khilji aka Ranveer Singh. And we are not taking away anything from Shahid and Deepika as we say this.
ALSO READ: Padmaavat day-4 box office collection: Sanjay Leela Bhansali's magnum opus crosses Rs 100 crore in first weekend
Watching him on screen was no less than a dream come true, but it took a lot for the actor to get into the skin of the character. So how did he ace the dark character on the silver screen? Here are five things that went into the making of this demonic portrayal of Alauddin Khilji.
1. Ranveer Singh locked himself up in a room for over 21 days to get into the character of Alauddin Khilji. "Getting out of this dark, intimidating mindset wasn't easy for him. The film has also been shot for almost a year now, so sustaining the Khilji persona was very challenging," a source close to the actor said.
2. Remember the intense one-on-one fight sequence between Shahid Kapoor and Ranveer Singh during the last 20 minutes of Padmaavat? Let us tell you that Ranveer was so engrossed in his Khilji avatar that he didn't realise he had sustained a head injury and was bleeding profusely. He noticed his injury only when the director called a cut.
ALSO READ: Govind Namdeo on Padmaavat violence: Things would have been different if govt took strict action
3. Remember the scene where Raza Murad aka Jalaluddin Khilji humiliates and slaps Ranveer hard in front of his army? The actor was slapped almost 24 times with the same intensity to perfect the shot. His face had turned visibly red after the takes.
4. Ranveer got so involved in his dark character that he had to seek the help of a psychiatrist to come out of the evil mindset of Alauddin Khilji. "It affected his reactions and behaviour towards people. Which is why his friends advised him to get help in emerging beyond Khilji. He is going to a psychiatrist to get rid of the Khilji influences," a source close to the actor said.
5. The crew of the film used to stay away and avoid contact with him whenever Ranveer used to slip into the character of Khilji. It was apparently intense and terrifying.