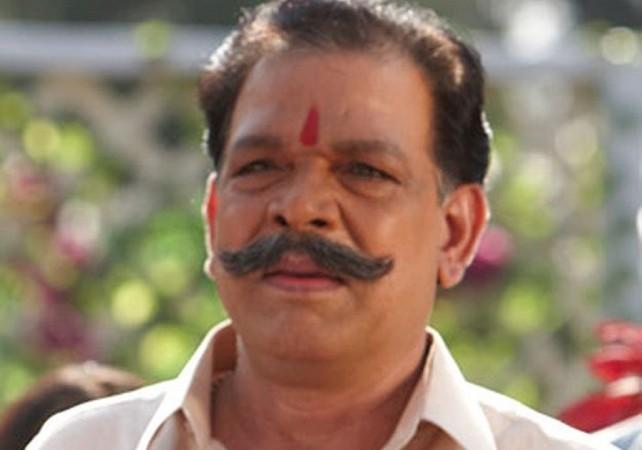 Veteran actor Govind Namdeo, an archvillain of Bollywood, is associated with many names like Birju Thakur in Virasat, Bhau Thakurdas Jhawle in Satya, Veeran in Safarosh, Siddheshwar Maharaj in OMG - Oh My God! and many others in the Hindi film industry. He has been one of the most despicable villains who was hated and loved at the same time by the audience.
The versatile actor will now be seen portraying the role of Morarji Desai in his upcoming film Solar Eclipse - Depth of Darkness. He will be next seen in Coming Back Darling, a murder mystery, as a cop, Jhalki Ek aur Bachpan, a film based on child labour, where he will be seen playing the role of a child trafficker. Then next in Kashi - In Search of Ganga, a suspense thriller alongside Sharman Joshi and in Junction Varanasi alongside Zarina Wahab where he will be seen playing the role of a doctor who leaves his luxurious life and dedicates it to the welfare of village people.
In an exclusive conversation with International Business Times India, Namdeo spoke at length about essaying Morarji Desai on screen, how playing negative roles brought positive changes in his personal life and questioned why government remained silent over Padmaavat violence.
Tell us how was your experience of playing Morarji Desai in Solar Eclipse.
It was really very good. It's a collaborative project of Hollywood and Bollywood. The movie has been directed by Hollywood director Karim Traidia and co-directed by Pankaj Sehgal. So the entire screenplay was very well planned to make it into a beautiful project. Our every activity went well as planned like at what time and where the shooting will take place, (mostly we shot in Sri Lanka), costume trial, make-up, then interacting with the director and discussing how a particular scene will be shot, what my director wants from me or what I want to contribute. So after a detailed discussion only we used to go in front of the camera. So I used to feel very creative on sets and it is always a great thing when you work in such kind of environment.
Talking about Morarji Desai, he became the Home Minister of Bombay (now Mumbai) in 1948 when Mahatma Gandhi was attacked twice at that time. So it was a huge responsibility on Desai's shoulders since the conspiracy was planned from Bombay only. So I played the role of Desai at three different levels. Not to forget that Desai was very close to Gandhi and he was a like an elder brother, a father figure to him. Desai was very disturbed when Gandhi happened was attacked for the first time and he knew that the attackers might attempt the second the attack as well. At that time, Desai requested his officials to protect Gandhi at any cost. He had very emotional bonding with Gandhi and I have portrayed that in the film.
Secondly, India was literally burning at that time because of riots between Hindus and Muslims after the partition. The situation was very bad. So how Desai used to function, his love for the country, his patriotism, his worries everything we have tried to portray on screen. People have an image of Desai as a soft-spoken person and very calm. But during this period of time, Desai was very aggressive, strong and dominating in his approach to bring law and order in the country.
There is one more important thing that I haven't told anybody is that I am also playing the role of Dr Parchure other than Desai. It is quite weird, isn't it? We usually do follow this swapping of characters in theatres or plays when there is no one around to play a particular role. So playing two different characters in such a huge film like this was a historical moment for me. Parchure's character is very dynamic and fierce. He had this amazing ability to influence people and he also used to speak against Gandhi while addressing people on stage. So the directors thought that how about if they could transform me into Parchure since they thought I was perfect for the part. They called and asked me if we can do this. And I agreed.
Every character that you have played has been different from one another.
The most important thing for me is directors accept me for every kind of role they want me to play. They have faith in me that he will easily pull off any character on screen. I haven't limited myself to specific roles. Other actors get typecast if they play certain roles in their films. So I am pretty satisfied with how things have worked for me. I do a lot of research from my end to get into the skin of the character. I pick up characters from everyday life. Whenever someone comes to me for the narration of my characters, my mind starts zeroing the people inside the limbo and checks whether it matches the people I have observed in real life. And if it doesn't match, then I try to incorporate small things like their gestures, way of talking, walking, expressions, etc., in my role. Which is why my every character gets distinguished from another. And the characterisation looks very realistic since it has been lifted from real life only. People relate to them. And there is nothing as such difficult in transitions because my study, my learnings from National School of Drama (NSD) are deeply rooted in my mind and soul. And it takes me a lot of time to search and make every character a unique one. If I don't find any character in real life, I go search for them in magazines for hours. What he is wearing, how he is standing, his posture, his beard every single thing I take into consideration. With experience, it becomes quite easy.
Historical characters do come with a lot of challenges. Did you struggle while playing Morarji Desai on screen?
The challenge was that you cannot liberty for the characterization of Morarji Desai on screen because people know him. It's like you putting your life at stake when you play such characters. So we have to be very careful while portraying the character. Because if something goes wrong, the audience will immediately spot the difference and start criticising since they have seen, heard and picturised Desai in their minds. So to avoid these kinds of situation, I had to struggle a lot.
You have tortured almost every actor and actress on screen with your villainous roles. Did you enjoy torturing them?
(Laughs) I just used to play my roles with authenticity and look convincing on my part. But after playing back-to-back negative characters on screen, it took away all the negativity from my inner self with time. It brought truthfulness in my own character in real life. Whenever I used to shoot for scenes like murder, rape or torturing someone and when I used to spend time with my wife and daughters, it used to have a negative impact on them. So playing negative roles really helped me a lot to become a better person.
People must be having second thoughts while talking to you because of your villainous image.
You know because of my villainous image, people not even used to come closer to me until I used to talk to them nicely and make them comfortable (laughs).
What was the reaction of your close ones after watching you beating up and torturing people on screen?
Earlier, they used to tell me that why are doing such kind of work. But slowly, the people, who are very close to me and wanted me not to do these kinds of roles, realised that I am just playing a character on the silver screen and the audience is accepting, appreciating and lauding me for my performance and also getting bestowed with awards.
We have seen what happened Padmaavat. Do you feel Solar Eclipse will get a smooth release since it is based on the backdrop of Mahatma Gandhi's assassination and not offend anyone?
Well, some people might raise objections but we have shot each and every instances very carefully so that it won't hurt anyone's sentiments. But talking about Padmaavat, I am really very surprised that why the fuss is all about when people not even have watched it. Why so hullabaloo? The protestors are just trying to gain political mileage from the film. Who knew about the fringe group called Rajput Karni Sena before? It may happen with our film as well. But if you would've seen Padmaavat, there is nothing in it as such that would offend anyone. The protests are still happening even after the Supreme Court cleared the movie to release across India. The government should have taken strict actions against these protestors. I don't know why the government is silent otherwise this issue wouldn't have become so big that it is now. Things would have been different. They are beating up people, burning buses and cars, pelting stones at children school bus. This is not a protest, it is a crime. And even the government is supporting them by banning the movie is different states. This entire Padmaavat episode is now sending out a very negative message whether filmmakers should make such films or not, whether people should go to watch it or not. Let's see how it goes now. But our film has been beautifully made.
You are one of the versatile actors in the industry. Was becoming an actor always on your to-do list?
No. Not really no. I used to perform in plays in my college but I never ever thought of becoming an actor. I just feel that I should perform in such a way that people will remember me for the centuries to come. Even if I am playing a role of a sweeper, I shall do it with perfection and look realistic on screen. So I have always aimed for perfection. When I decided I wanted to be an actor, I wanted to become a memorable, a legendary actor. And to achieve that feat, I spent 11 more years in training after I completed my course in NSD. I was in the repertory of NSD of 11 years because I used to feel that I was not up to the mark as an actor and to make it as my profession. If a big superstar stands in front of me how would I able to give my 100 percent on camera. I always had this thought running at the back of my mind. So I stayed back and did theatre from a learning point of view. From 1975-78, I did my course in NSD, then from 1978-89, I was with repertory. And I left for Mumbai only after polishing my skills to a level where I would proudly stand and perform in front of every A-lister in Bollywood.
In a career spanning over 27 years, you have seen Hindi film industry going through a lot of changes. How do you see this new era in Bollywood?
The current era is very good from an actor's point of view in Bollywood. Good subjects are being picked by filmmakers, actors are getting good characters to test their abilities. Earlier, films were made with a set of formula which included things like the hero-heroine romance, a villain, a rain song, a rape and a murder. Now things have changed a lot. Realistic subjects are being taken into consideration. The audience are loving and appreciating medium budget films. Star-studded films are getting bombed somehow. So this era is very good for new actors, new producers, new directors and other people who are getting a chance to showcase their skills. Earlier, small budget films never used to get a theatrical release. They were put into a category of art films as they were not considered as commercial ones. They used to be sometimes screened in film festivals. Distributors never used to pick such movies as the audience never liked them. And even theatres were less in numbers. But now we have multiplexes, and more number of theatres. So every film which is being made in today's time is getting a theatrical release and people are watching it. So it's a great environment today for cinema lovers and makers.
Where do you think the current generation of actors lack?
It actually depends on person to person, actor to actor and how he/she have begun their acting career with proper training and how deep they are in their soul is in terms of acting. Look at Jackie Shroff's son Tiger, nobody ever thought that he could become a hero in Bollywood. But he has trained himself so well be it dancing, stunts, physique, acting, everything. People were shocked to see him perform with such abilities on screen.
New actors get trained by professionals and veteran faculty members during their 3 years of acting course. It depends on one's grasping ability and how a person is willing to grow as an actor. But today's generation invests their time in Facebook, Twitter and WhatsApp than working on their skills. They seek shortcuts. They lack maturity in observing and incorporating basic things to become a better actor. They are stuck. Don't know when they will learn. Those who care about their teachers and mentors and are concerned about their career, those will work hard to achieve what they want.
Does box office success matters to you?
Yes, it does matters. After all its a filmmaking business. If a film is earning well at the box office, it means more and more people are going to theatres and watching it. If a film is good it will stay with audience forever even if it doesn't earn enough money. And films which are bad will come and go away and nobody will remember even if it earns a lot of money at the box office.
Gender disparity in pay scale has always been a debate in Bollywood. How do you think an actor should get paid for a film?
It's a business. An actor with a lot of demand will get paid much more than his/her contemporaries. You can't create criteria for how much an actor should get paid for a film. If a star is pulling the audience in theatres and if that film is earning money, it is also producers who decide how much that actor should be paid. An actor thinks that if a producer earning so much profit out of a film, he should also get some share of it and vice-versa. So, even if you are not a big star or not even playing a lead role, but you are in demand, you will get paid more than others.