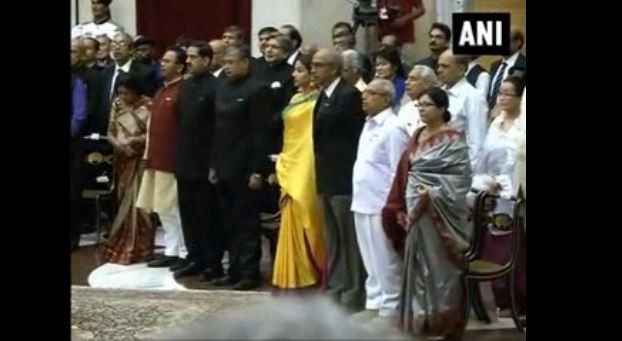 President Pranab Mukherjee on Monday conferred Padma Awards, the highest civilian awards of the country, to 66 personalities at the Rashtrapati Bhavan in New Delhi, India.
The Padma Awards falls in three categories including Padma Vibhushan, Padma Bhushan and Padma Shri.
Padma Shri is the fourth highest civilian award after Bharat Ratna, the Padma Vibhushan and the Padma Bhushan.
These awards are presented to people for their work in various fields like art, social work, public affairs, science and engineering, trade and industry, medicine, literature and education, sports, civil service and others.
Vice President Hamid Ansari, Prime Minister Manmohan Singh, his wife Gursharan Kaur, Union ministers Sushilkumar Shinde, P Chidambaram, Sharad Pawar, Sriprakash Jaiswal, and Chief Election Commissioner V S Sampath were also present during the award ceremony.
This year, the government honoured Dr. Raghunath Anant Mashelkar with Padma Vibhushan, while actor Kamal Haasan and ace shuttler Pullela Gopichand along with 22 other personalities were honoured with Padma Bhushan.
Actress Vidya Balan and Indian women kabaddi team coach Sunil Dabas were among the 53 personalities who were conferred with the Padma Shri award on Monday.
Check out the complete list of winners below:
Padma Vibhushan
Dr. Raghunath Anant Mashelkar
Padma Bhushan
Prof. Anisuzzaman
Shri Pullela Gopichand
Shri Kamal Haasan
Prof. Jyeshtharaj Bhalchandra Joshi
Shri Vijayendra Nath Kaul
Prof. (Dr.) Neelam Kaur
Dr. Anumolu Ramakrishna (Posthumous)
Prof. Lloyd I. Rudolph
Prof. Susanne H. Rudolph
Begum Parween Sultana
Shri Vairamuthu
Shri T.H. Vikku Vinayakram
Padma Shri
Dr. Naheeda Abidi
Dr. Kiritkumar Mansuklal Acharya
Dr. Subrat Kumar Acharya
Ms. Vidya Balan
Shri Sekhar Basu
Prof. (Dr.) Balram Bhargava
Prof. Ashok Chakradhar
Ms. Sabitri Chatterjee
Shri Chhakchhuak Chhuanvawra
Dr. Sunil Dabas
Prof. Biman Bihari Das
Dr. Ramakant Krishnaji Deshpande
Smt. Elam Indira Devi
Prof. G.N. Devy
Dr. Brahm Dutt
Prof. Kolakaluri Enoch
Prof. Ved Kumari Ghai
Prof. (Dr.) Pawan Raj Goyal
Shri Ravi Bhusan Grover
Prof. (Dr.) Daya Kishore Hazra
Prof. Ramaswamy R. Iyer
Prof. Eluvathingal Devassy Jemmis
Smt. Naina Apte Joshi
Prof. (Dr.) Shashank Ramesh Chandra Joshi
Shri Bansi Kaul
Shri Jawahar Lal Kaul
Ustad Moinuddin Khan
Prof. Rehana Khatoon
Dr. (Mrs.) P. Kilemsungla
Dr. Milind Vasant Kirtane
Shri Ashok Kumar Mago
Smt Geeta Mahalik
Shri Paresh Maity
Shri Waikhom Gojen Meetei
Dr. Mohan Mishra
Prof. Vamsi Krishna Mootha
Prof. Vishnu Narayanan Namboodiri
Shri Ravi Kumar Narra
Ms. Dipika Rebecca Pallikal
Dr. Ashok Panagriya
Shri Sudarsan Pattanaik
Shri Pratap Govind Pawar
Dr. Sunil Pradhan
Shri Wendell Augustine Rodricks
Dr. Sarbeswar Sahariah
Shri Rajesh Kumar Saraiya
Shri Alur Seelin Kiran Kumar
Shri Anuj (Ramanuj) Sharma
Prof. Vinod Kumar Singh
Ms. Sooni Taraporevala
Prof. (Dr.) Jeewan Singh Titiyal
Shri Tashi Tondup
Prof. Om Prakash Upadhyaya