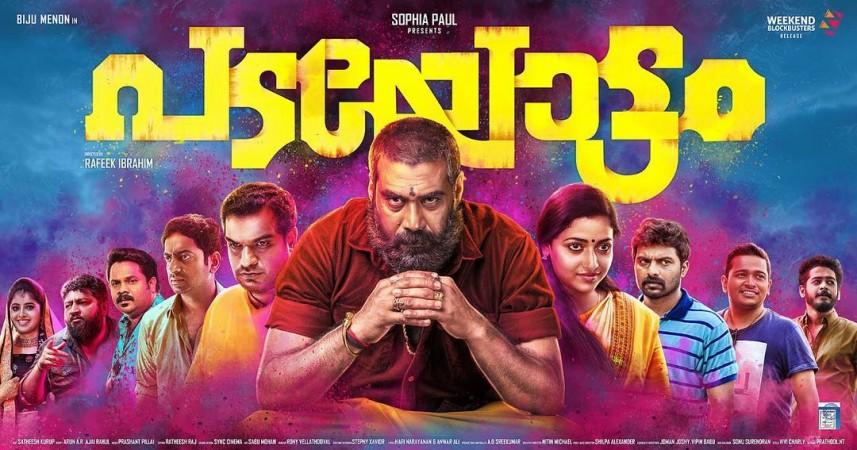 Director Rafeek Ibrahim's Malayalam movie Padayottam starring Biju Menon, Ravi Singh, Dileesh Pothan, Saiju Kurup, and Suresh Krishna has received good reviews and ratings from the audience.
Padayottam is a gangster comedy film and Arun AR and Ajai Rahul have written the script for the movie, which has been by produced by Sophia Paul under the banner Weekend Blockbusters. The flick has received a U certificate and it has a runtime of 2 hours and 15 minutes.
Padayottam movie story: It is about a group of men who take a road trip from Thiruvananthapuram to Kasargode to take revenge on the guy who hit one of their friends. On the way, they collect thugs from different cities, including Kochi, Thrissur, and Kasargode. One among them is Chengal Reghu (Biju Menon), who is an intimidating thug. How the society perceives him forms the crux of the story.
Analysis: Padayottam deals with a routine revenge drama, but a funny treatment of the subject makes it an engaging watch. The movie is simple and yet it is very entertaining, says the audience.
Performance: As Chengal Raghu, Biju Menon has delivered wonderful performance, which is the highlight of Padayottam. Ravi Singh, Dileesh Pothan, Saiju Kurup, Suresh Krishna, Hareesh Kanaran, Anu Sithara, Sethu Lakshmi, Sudhi Koppa, Ganapathi Poduwal, Lijo Jose Pellissery have also done justice to their roles, say the viewers.
Technical: Padayottam has decent production values, music, picturisation and dialogues are the highlights on the technical front, says the viewers.
Padayottam movie review live updates: We bring you some viewers reaction on the film shared on Twitter. Continue to see the audience's response.
Hisham‏ @hishh
First half of #Padayottam is super. Black comedy and loving it. Superb casting and highly entertaining. Waiting for next half..!! #Padayottam - Highly entertaining first half followed by an average second half but ends with a high note. Black comedy which entertains mostly. Many laughable moments too - ***/5 #Padayottam - Chengal Raghu should be the elder brother of Shaji Pappan

Watch Padayottam official trailer here: