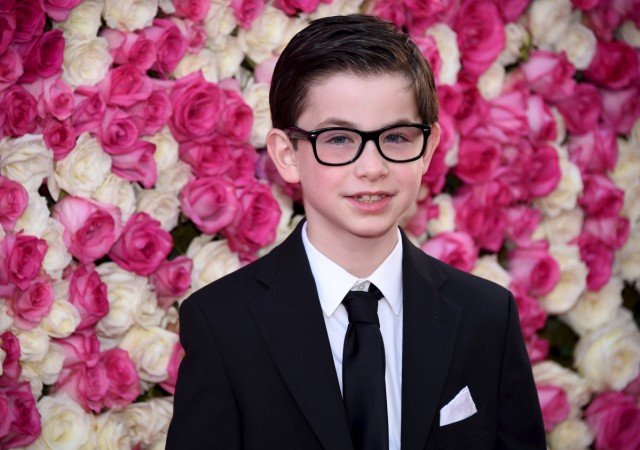 Owen Vaccaro is going to be a name you are going to hear a lot often in Hollywood, considering he has roles that leave a lasting impression in movies like Will Ferrel's "Daddy's Home" and Jennifer Aniston's "Mother's Day." The 10-year-old is not only a phenomenal actor, but also is socially aware and an activist.
Ahead of the "Mother's Day" movie release on April 29, International Business Times, India got a chance to interact with Vaccaro. Below are the edited excerpts from the interview:
International Business Times: How did you get into acting and how long have you been doing it?
Owen Vaccaro: I started acting when I was in First Grade. My teacher told my mom about a local theatre company and she signed me up. I LOVED it! After that, I started auditioning for films and commercials. I still do both...theatre and film.
IBT: Do you see yourself acting as an adult or do you want to grow up and choose some other career?
Vaccaro: I HOPE I'm still acting when I'm an adult. I hope I still get roles as I get older. My director for "Daddy's Home" was Sean Anders and for "Mother's Day" was Garry Marshall...those guys really look happy doing their jobs. Maybe I could direct?
IBT: Having been in huge movies like "Daddy's Home" and "Mother's Day," do you get recognised a lot? How are you dealing with the adoration from strangers?
Vaccaro: I really don't get recognised that often. If I have my glasses on, it happens more. For the "Mother's Day" premiere, a huge crowd had gathered in front of the Chinese Theater and we had to make our way through to get to the Red Carpet to meet my publicist, Brandi. My mom and I thought it was really funny that no one noticed me as we were moving through the crowd that was there to see people from the movie! Once I got to the gate, they realised. That was fun!
IBT: You have acted with world-famous celebrities like Will Ferrell and Jennifer Aniston; have you seen any of their work before that?
Vaccaro: Yes. One of my favourite movies is "Elf" with Will Ferrell.
Also Read: Chris explains why she and Mimi are not a lesbian couple
IBT: What can you tell us about "Mother's Day" and your character Charlie?
Vaccaro: My character in "Mother's Day" is Charlie who has two moms played by Cameron Esposito and Sarah Chalke. They are gay and Sarah Chalke's parents don't know...and it's really funny how they find out. Charlie is super smart and well spoken. He loves to read.
IBT: Do you get to hang out with the adults after the shoot?
Vaccaro: Sometimes I do. In "Daddy's Home," we had so much time there and sometimes they would keep us on the set waiting between takes, so Mr. Wahlberg was always around to hang out. Linda Cardellini, too. Mr. Ferrell was a producer on that movie, so he was busier. Sometimes, they would have their kids on the set and we'd all play. There is always a little time to hang out, but mostly on breaks, my mom wants me to do school. My school, Holy Innocents, has been really nice about me missing, so my parents think we have to make sure they know how hard we are working or they may not be as supportive. Scarlett Estevez has become one of my best friends after Daddy's Home, so I always had her to hang out with and go to school with.
IBT: Who has been your favourite co-star so far?
Vaccaro: Scarlett Eetevez..no question.
IBT: Who do you prefer working with more – adult stars or child actors close to your age?
Vaccaro: I love both! Most of the adult actors I have worked with have been really fun and just want the set to be a good time. Also, I have worked with comedians like Cameron Esposito and Hannibal Burress who keep everyone laughing.
IBT: You are very dapper guy. Are the suits and bow-ties your personal style choices?
Vaccaro: Ha! My mom will love hearing that! My mom and her friend pick out my outfits, but I love a bow tie! Recently, I got some suspenders and I can't believe how often I wear them. They are really cool. We just finished the LA premiere of "Mother's Day" and they are going to have a local, Atlanta, premiere, too. My mom is already hard at work to find something for me. For Premiere in LA, we had to have my shoes stretched because we couldn't find any (AND WE SEARCHED), that they liked as well as what I already have. I'm growing! Finally!
Also Read: Meet the cast of 'Game of Thrones' while helping Syrian refugees
IBT: Can you tell us a little about #WeStandTogether?
Vaccaro: #westandtogether is a campaign to help kids who have been abused. April is child abuse prevention month and so we had this idea to collaborate with the lip sync APP musical.ly . Kids can make lip syncs using Rachel Platten's song (which she donated to our cause for free) and use the hash tag #westandtogether and post to their social media sites. It grew so quickly! We are already up to 146,000 videos! Moxie is a marketing company that donated their services and teamed up with us to make an incredible video and help us launch the campaign. They were amazing! We had a lot of fun doing it, but really cool to see how it spread. This was a "kids helping kids" campaign and kids really wanted to help!
IBT: How did you get involved in the project?
Vaccaro: I got involved because my friend is on the board for Georgia Center of Child Advocacy.
IBT: What new projects can fans look forward to seeing you in?
Vaccaro: "Mother's Day" comes out April 29th! I am also doing Highschool Musical with my theatre company MZ Stageworks.