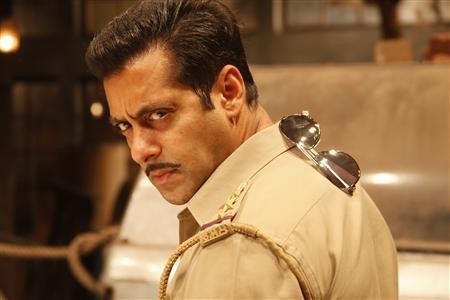 The Bollywood superstar Salman Khan, who has over 8 million followers on social networking site, is sweating out to trim down the extra weight he gained after giving up smoking. The "Dabangg" star has reportedly shed several kilos and look fitter than before.
Health conscious fans were quick to notice the extra blob Salman has been carrying in the last few years. When it was revealed how the audience was tricked into believing the chiseled abs in the action flick, "Ek Tha Tiger", many sympathized while others gleefully pointed out that even the Bollywood beefcake had fallen prey to the middle age.
The 47-year-old Bollywood actor, who recently completed 25 years in the film industry, is just a few of years away from his 50th birthday but that has not stopped him from looking fit. He started rigorous work out sessions a few months ago and dedicated his energy to diet.
The actor has cut down at least 8 kilos of extra flab in these few months, according to a report by The Times of India.
"He was aware that he had put on some weight. Though the intensity of his workouts reduced for a short phase, he never missed the sessions. Even Aamir, when he was shooting nearby around April pointed it out and told him that he needs to get back to his old physique," a source told TOI.
The actor currently spends an hour cycling or jogging everyday. His push-up counts can reach a whopping 500 to 1000.
Salman regularly drinks green tea and recently asked his fans to follow him on the microblogging site Twitter.
"Here have sm green tea," he posted on Twitter with photograph of his mug with green tea.
Another middle-aged Bollywood superstar, who has been keeping his weight in check, is Aamir Khan. The Perfectionist had undergone a rigorous regime for "Ghajini" in 2008, cut down his weight for "3 Idiots" but he had to work for six-pack abs for his upcoming film, "Dhoom 3" again.