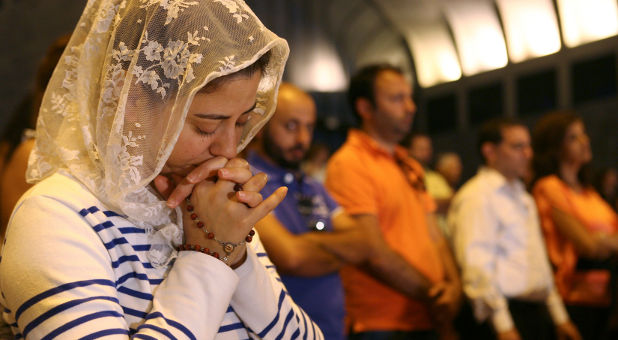 Over 200 Assyrian Christians kidnapped in Syria by the Islamic State (Isis) militants are being tried by an Isis kangaroo court investigating their links with the local militia groups.
Local reports have found that the Isis has taken a total of over 274 Assyrian Christians as captives and is holding them prisoners in al-Shaddadeh on the Abdulaziz Mountain.
Isis has reportedly burned down homes and destroyed churches as it took hundreds of women, children and elderly as captives earlier last week. Initially, reports had found that Isis had separated the men from the group and of those men who opposed were being executed.
A Cambridge-based Assyrian scholar Nineb Lamassu, who reportedly is in constant touch with the those who escaped the Isis onslaught by taking refuge at nearby Qamishli and Hasaka cities, told a London-based Arab newspaper that the militants are scrutanising the captives.
Recently, a number of militia groups had taken up arms against Isis. Christians armed groups from the Syrian region have also joined with the Kurdish Peshmerga to fight the militant outfit.
"The information we got from [Isis] is that these people are all fine for now, they are awaiting a trial. Those that held arms against them will be killed, while those who didn't (women and children) will be released," Lamassu told Asharq al-Awsat.
Isis in Libya earlier in the month had beheaded 21 Coptic Christians from Egypt.
Isis Releases 29 Kidnapped Assyrian Christians
A report by the Syrian Observatory for Human Rights on Saturday claimed that Isis plans to release 29 Assyrian Christians.
While the exact number of those released could not be confirmed independently, an Assyrian source claimed it had information that 18 to 21 Assyrians from the town of Tel Goran had been set free by Isis on 28 February.
The Assyrian hostages released by Isis on Saturday were also tried by the Sharia court and were reportedly released only after it found that the they had no links with any militia.
Locals Assyrians, however, fear that Isis will ask for ransom for those who carried arms and the women and children will be enslaved regardless.
Since the Isis attack, reports claim that the entire southern strip of villages along the Khabur River, from Tal Hurmiz to Tal Shamiran, have now been emptied of their inhabitants and occupied by ISIS.