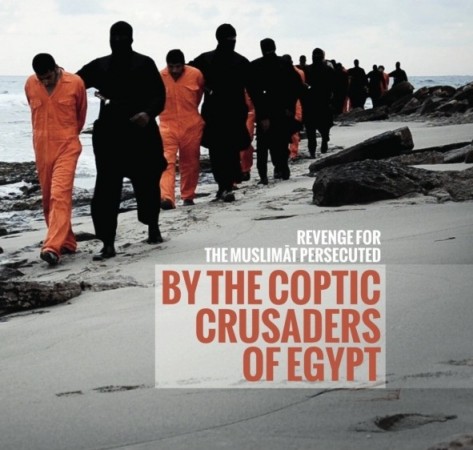 The Islamic State (ISIS) militants have claimed that they kidnapped 21 Coptic Christians from Egypt to 'avenge' the 2010 alleged killing of two women who had converted to Islam.
The ISIS' English propaganda magazine Dabiq carried a report on the 21 Coptic Christians kidnapped by the ISIS-affiliates in Libya in January this year.
The undated photographs published in Dabiq showed the Coptic Christians in orange jumpsuits usually donned by Islamic State prisoners before they are executed by the group.
The ISIS report also noted that the kidnapping of the "Coptic crusaders" also commemorates the October 2010 bombing of the Catholic Church in Baghdad.
Fifty-eight people, most of them worshippers from the Chaldean Catholic community, were killed in the massacre, carried out by the Islamic State of Iraq, a forerunner of the Islamic State (ISIS).
The group later had claimed that it had carried out the attack to avenge the kidnapping and killing of two Egyptian Christian women who were married to Coptic priests but are believed by some Muslim groups to have converted to Islam. The allegation was never proved, but the radical group still holds a grudge against the Egyptian Christians.
An AINA report noted that the 21 people who ISIS is calling 'Coptic Crusaders' are migrant workers from impoverished villages of Upper Egypt, kidnapped by ISIS-affiliate group Ansar al-Sharia from Sirte.
On Thursday evening, the Egyptian presidency issued a statement saying that it was following the matter closely and seeking to verify the information.