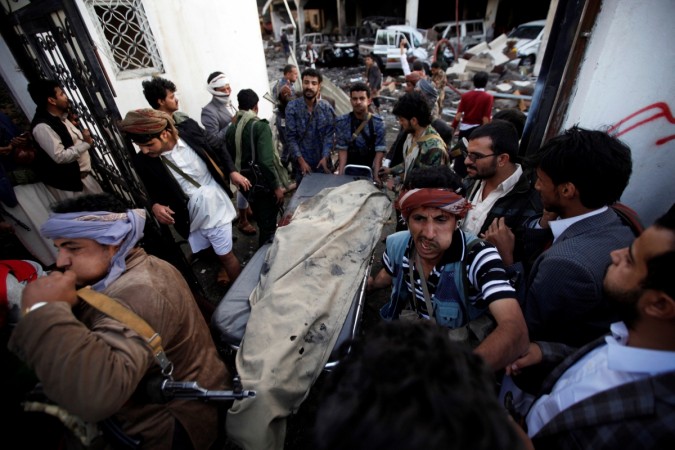 At least 140 people were killed and 525 injured in an airstrike conducted by Saudi Arabia-led coalition in Yemen on Saturday, said United Nations humanitarian coordinator Jamie McGoldrick.
According to McGoldrick, the attacks were targeted at community hall in the capital Sanaa where mourners had gathered in memory of the father of the administration's interior minister, Jalal al-Roweishan, who had died of natural causes on Friday.
"Initial reports from health officials in Sanaa indicate that over 140 people were killed and over 525 injured," McGoldrick said in a statement. He has called for an investigation into the airstrikes, adding that the violence against civilians in Yemen must stop.
Saturday's airstrike is one the deadliest attacks conducted by the Saudi-led coalition since they began the military operations against Iran-aligned Houthis and in favour of ousted Yemeni President Abedrabbo Mansour Hadi in march 2015.
"The Saudi aggression committed a major crime today, by attacking a mourning hall for the al-Roweishan family, targeting residents in the hall," Ghazi Ismail, the acting health minister of the Houthi-run administration said.
However, the coalition has denied any role in the attacks, with one source, acting as the voice for the coalition air command, claiming that no attack took place on the said target. "The coalition is aware of such reports and is certain that it is possible that other causes of bombing are to be considered."
President Hadi has said in a statement that the coalition has in the past avoided such gatherings and (they have) never been a subject of target and hence "other causes for the incident" must be considered.