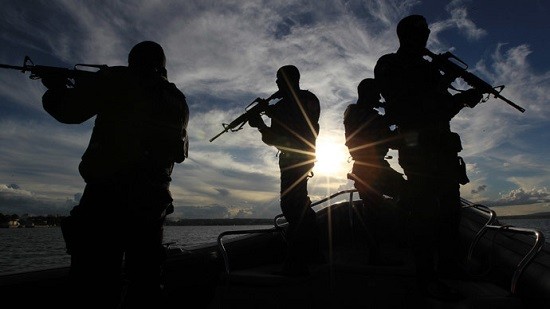 Over 100 private mercenaries belonging to the elite private US force Blackwater have set up base in Eastern Ukraine, in a bid to counter the Russian forces that are covertly supporting the mass movement, including the supply of weapons.
The information was leaked to the media by sources from German foreign intelligence agency Bundesnachrichtendienst (BND), which claims that the ad hoc Ukrainian government is colluding with the US government.
The Ukrainian government brought in the Blackwater forces secretively into the country in April, and the elite troop is in preparations to launch counter-actives against the covert Russian forces inside Kiev.
German daily Die Welt put the number of US mercenaries in Ukraine as 400. Blackwater has now been rechristened as Academi. The mercenary group was founded by former elite US soldiers fought in Iraq and Afghanistan but can also be hired by corporations and third countries.
The media report, citing BND sources, revealed that there has also been confirmed reports of the Russian Air Force repeatedly and intentionally violating the airspace of Ukraine. And it was following this that the Ukrainian government decided to bring in the private elite force.
With increasing mob violence, the government forces are miserably failing to restore order in the country, and now it will be on these private mercenaries to maintain order in difficult situations.
Blackwater on occasions has been hired by the US to operate in both international war zones and on American soil. It had come under severe criticism and an judicial probe, after the wikileaks documents revealed that Blackwater ops were responsible for killing of hundreds of civilians in Fallujah during the 2003 Iraq wars.