Rest in peace, Frank Randall.
If you have not caught up with the recent episode of Outlander Season 3, then here is what happened in the recent episode titled 'All Debts Paid'. After spending 18-year-long loveless marriage, Frank Randall (Tobias Menzies) passed away.
But after the shocking death of Frank, Outlander devotees raised question over his death. Was it fair for him? The man who sacrificed almost his entire life for a woman who is in love with another man (Jaime).
The official synopsis reads—
In prison, Jamie discovers that an old foe has become the warden — and has the power to make his life hell. Claire and Frank both put their best foot forward in marriage' but an uninvited guest shatters the illusion.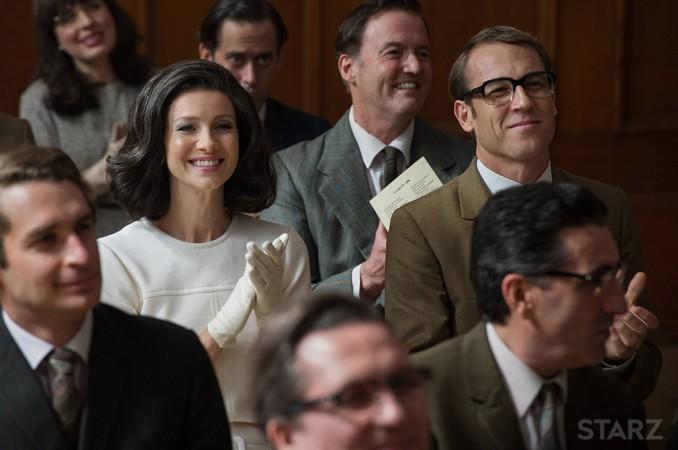 Also read: Watch Outlander Season 3 Episode 3 live online: 'All Debts Paid'
Speaking of this issue, actress Caitriona Balfe told Variety in a recent interview, "We wanted to have that [atmosphere], especially in episode three. The kind of resentment that's built up over years. One thing Tobias and I talked about is that we didn't want this relationship to be just horrible from the beginning, you know? 'She doesn't love him, she's in love with someone else, and that's it.'
"There had to be love there, there had to be hope. But they're two people who are not being satisfied or fulfilled. That disappointment just grew and grew over the years. When they have that final fight, it's vicious. All that anger comes out. And we really wanted to play with that."
"I guess the thing about a show with time travel is, you can go anywhere," actor Tobias Menzies added. The show "could go back to both those characters if they wanted to. But as we stand, I'm out of contract, and the characters have both died."
According to Outlander showrunner Ron Moore, Tobias has been a key part of their success. "Those roles that he played were so important for both storylines. He had a very tricky act that we gave him: Play two characters that look exactly the same in two different centuries. And both have a relationship with the same woman, but those relationships are radically different."
Outlander airs on Starz on every Sunday at 8/7c.