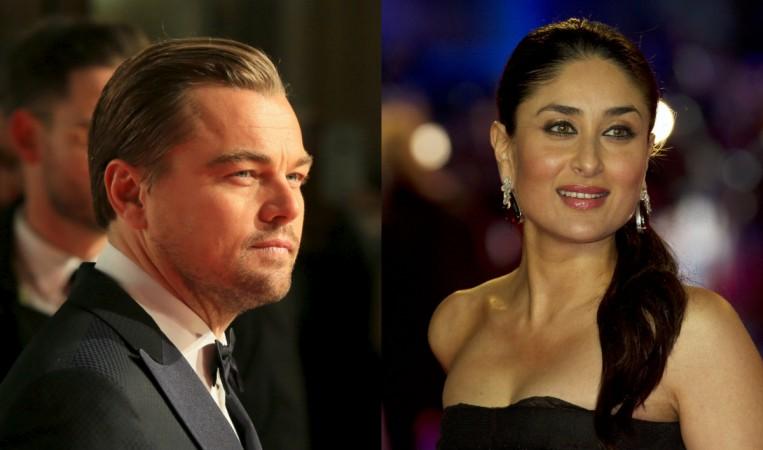 Kareena Kapoor Khan is among the many rooting for Hollywood actor Leonardo DiCaprio to finally take home the golden man. Kareena, who is a huge fan of DiCaprio, wants him to bag the Oscars this time.
DiCaprio has been nominated for Best Actor award for his performance in gritty drama, "The Revenant." Kareena believes that he is one of the finest actors and hopes that he takes home the trophy.
"I am a huge DiCaprio fan," Kareena told Hindustan Times. "I think he's one of the finest actors in the world. I hope he finally gets his due at the Oscars this year," she added.
However, Kareena, who is rooting for DiCaprio, hasn't seen "The Revenant" yet. The actress is busy with the promotion of her film "Ki and Ka," and will watch the movie after it is released in India.
"She is looking forward to seeing Leonardo bag the Oscar. She is a huge fan, and can't wait to watch his film, The Revenant (2015), for which he has been nominated in the Best Actor category. Even though she is busy with the promotions of her next, she will take time out to watch the movie when it releases in India. Kareena feels that Leonardo should have won an Oscar much earlier in his career," a source close to the actress told Hindustan Times.
"The Revenant," directed by Alejandro G. Iñárritu, is based on true events and tells the story of a man's adventure of survival and revenge. The film has bagged 12 nominations at the 88th Academy Awards and won several awards at the Golden Globe and BAFTAs 2016.
The 88th Academy Awards, hosted by Chris Rock, will be held Sunday, Feb.28. The award show will be aired live on ABC network. Click here to know more about the live streaming information of Oscars 2016.