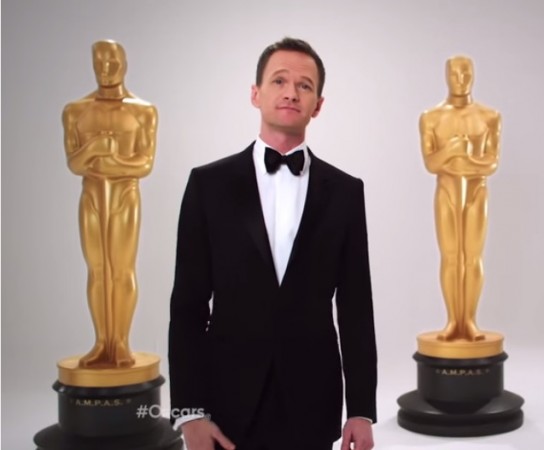 The Oscars big night is just hours away, and if you have missed the nomination list, presenters and who will host the show, here is your one-stop shop for a recap.
The annual 87th Academy Awards, which will honour the best films and performances of 2014, will take place on Sunday, 22 February, (23 February in India) at the Dolby Theatre in Hollywood, Los Angeles.
Host
Neil Patrick Harris will host the 87th Academy Award live on Sunday night.
Presenters
Although Jennifer Lawrence was nominated for her performance in the movie "Cake", she will still be a part of the show as a presenter.
Other celebrities who have been announced as the presenters, include Jason Bateman, Idris Elba, Ansel Elgort, Nicole Kidman, Liam Neeson, Gwyneth Paltrow, Channing Tatum, Chiwetel Ejiofor, Chris Evans, Dakota Johnson, Jennifer Lopez, Chloe Grace Moretz, Eddie Murphy, Margot Robbie, Ben Affleck, Jessica Chastain, Viola Davis, Kevin Hart, Shirley MacLaine, Chris Pine, Miles Teller, Naomi Watts, Sienna Miller, David Oyelowo, Chris Pratt, John Travolta, Kerry Washington, Josh Hutcherson, Scarlett Johansson, Zoe Saldana, Octavia Spencer, Marion Cotillard, Benedict Cumberbatch, Meryl Streep, Oprah Winfrey, Reese Witherspoon, Cate Blanchett, Jared Leto, Matthew McConaughey, Lupita Nyong'o, Terrence Howard and Felicity Jones.
Performances
Lady Gaga, Jack Black, Rita Ora, Common and John Legend, Tim McGraw, Anna Kendrick, Jennifer Hudson, Adam Levine, Tegan and Sara and Jack Black will perform.
Complete list of nominees
Best Picture
Birdman
Boyhood
Selma
Whiplash
American Sniper
The Imitation Game
The Theory of Everything
The Grand Budapest Hotel
Best Actor
Bradley Cooper for "American Sniper"
Benedict Cumberbatch for "The Imitation Game"
Michael Keaton for "Birdman"
Steve Carell for "Foxcatcher"
Eddie Redmayne for "The Theory of Everything"
Best Actress
Marion Cotillard
Reese Witherspoon for "Wild"
Felicity Jones for "The Theory of Everything"
Rosamund Pike for "Gone Girl"
Julianne Moore for "Still Alice"
Best Director
Richard Linklater for "Boyhood"
Alejandro González Iñárritu for "Birdman"
Morten Tyldum for "The Imitation Game"
Bennett Miller for "Foxcatcher"
Wes Anderson for "The Grand Budapest Hotel"
Best Supporting Actor
JK Simmons for "Whiplash"
Ethan Hawke for "Boyhood"
Edward Norton for "Birdman"
Robert Duvall for "The Judge"
Mark Ruffalo for "Foxcatcher"
Best Supporting Actress
Emma Stone for "Birdman"
Patricia Arquette for "Boyhood"
Keira Knightley for "The Imitation Game"
Laura Dern for "Wild"
Meryl Streep for "Into The Woods"
Cinematography
Unbroken
Birdman
Ida
The Grand Budapest Hotel
Mr Turner
Best Short Animated Film
The Dam Keeper
Feast
A Single Life
Me and My Moulton
The Bigger Picture
Best Animated Feature
How To Train Your Dragon 2
The Tale Of Princess Kaguya
Big Hero 6
Songs of the Sea
The Box Trolls
Best Short Live Action Film
The Phone Call
Butter Lamp
Parvaneh
Aya
Boogaloo and Graham
Best Documentary Feature
Last Days in Vietnam
Finding Vivian Maier
Salt of the Earth
Citizenfour
Virunga
Best Documentary Short
The Reaper
Joanna
White Earth
Our Curse
Best Visual Effects
Interstellar
Captain America: The Winter Soldier
Guardians of the Galaxy
X-Men: Days of Future Past
Dawn of the Planet of the Apes
Best Film Editing
The Grand Budapest Hotel
American Sniper
The Imitation Game
Boyhood
Whiplash
Makeup and Hairstyling
Foxcatcher
Guardians of the Galaxy
The Grand Budapest Hotel
Costume Design
Inherent Vice
Maleficent
Into The Woods
The Grand Budapest Hotel
Mr Turner
Foreign Language Film
Wild Tales
Ida
Leviathan
Tangerines
Timbuktu
Original Screenplay
The Grand Budapest Hotel
Richard Linklater
Foxcatcher
NIghcrrawler
Birdman
Adapted Screenplay
The Theory of Everything
American Sniper
Inherent Vice
The Imitation Game
Whiplash
Best Original Song
I'm Not Gonna Miss You for "Glen Campbell: I'll Be Me"
Everything is Awesome for "The Lego Movie"
Grateful for "Beyond the Lights"
Lost Stars for "Begin Again"
Glory for "Selma"
Original Score
Hans Zimmer for "Interstellar"
Alexandre Desplat for "The Grand Budapest Hotel"
Johann Johannsson for "The Theory of Everything"
Alexandre Desplat for "The Imitation Game"
Gary Yershon for "Mr. Turner"
Best Sound Editing
Unbroken
Sniper
Birdman
Interstellar
The Hobbit: The Battle of the Five Armies
Best Production Design
The Imitation Game
Interstellar
Mr. Turner
Into the Woods
The Grand Budapest Hotel
Best Sound Mixing
Birdman
Interstellar
Whiplash
Unbroken
American Sniper